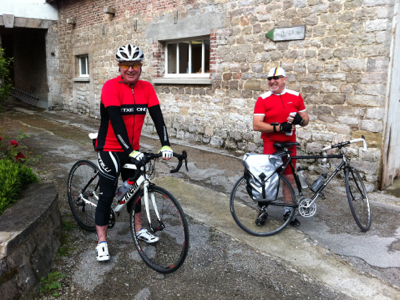 The morning dawns bright. The cooing of wood pigeons across the farmyard remind us of our country location, as silence is all one can hear. I can see blue sky which must be a bonus. Is it cold?
Did Grant's snoring keep Kirsten awake? What's for breakfast?
Well it was not bacon and eggs. The usual continental suspects: croissants, cereal, bread etc etc. Grant was missing his eggs. No, it was not cold, and Kirsten got a good nights sleep. Breakfast in France turns out be be the same in wherever you are, there appears to be little in the way of Regional differences, despite the very different country you find between in North and the South.
I hope the French never give into any latent demand for the English breakfast (not that they would) as part of the joy of return to the UK is English bacon and eggs. And a proper cup of tea. For now we are in France and so the continental breakfast it is.
We set off in decent weather at about 9.15 ish. That changed. I counted at least 4 downpours during the day which we luckily managed to miss. The first deluge we saw ahead of us, moving right to left and when we arrived at where it had been the evidence was all around us. Two we missed through having stopped for coffee, and then lunch.
The fourth deluge saw us sheltering in a bus stop until it blew over. The evening in Arras however was very pleasant indeed, we even sat out in the sunshine with a well earned beer.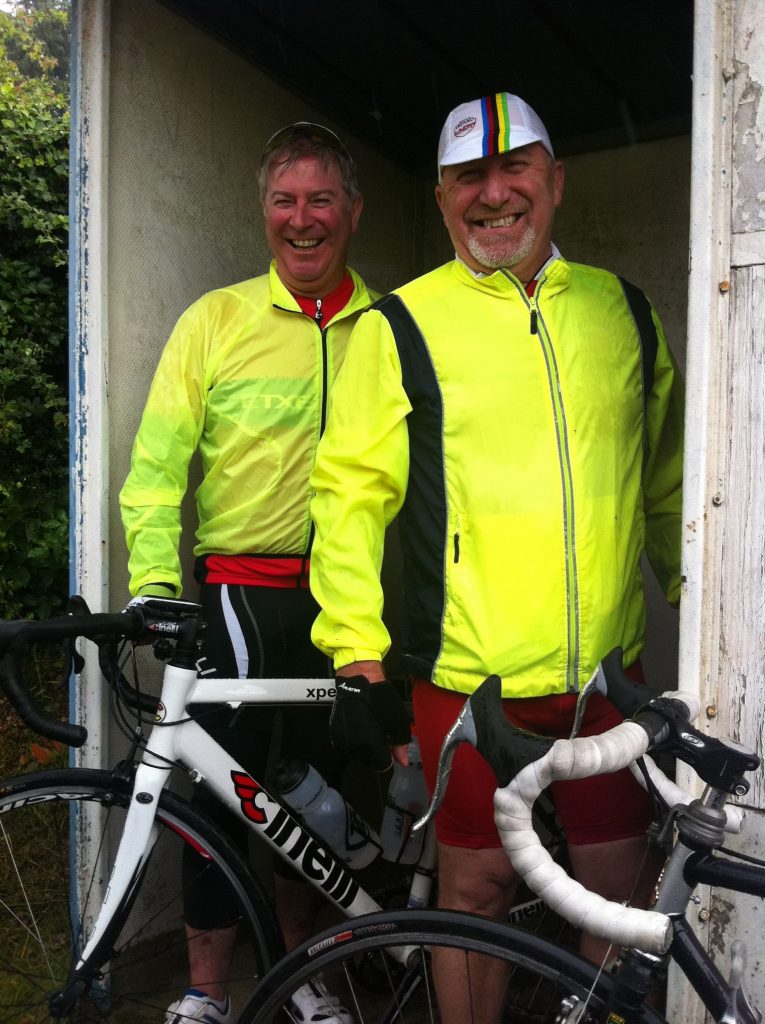 Earlier during the day I heard 'Alors velos!' as a pelaton of about 10 'proper' club cyclists zoomed past leaving us for dead. Cycling as you know is a popular sport here and it is very often the 'not so young' who are out there.
We are not the only middle aged men on bikes and it is good to see. What it would take for the UK to become more bike friendly so that we get out more?
The paradox is that while team GB is winning many medals in cycling the infrastructural encouragement at the local level is lacking.
We decided to stop at a village called Bomy, a one road village with only one bar/tabac. We ate something with frites, I care not to know what was in the piece of 'meat' calling itself a 'staeke' Mexicanos'. The name should have put us off. Kirsten found us and joined in the frivolity. Several locals kept the bar from falling over, but were friendly enough to ask us what we were up to and where we were going. I tried my best (crap) french and they seemed satisfied with my answers. We sat and ate lunch and we watched rain as experienced in England. I swear I could hear banjos playing as we set off.
As for a sit rep on 'wounds and injuries' we have started well I think. The 'sit bones' do not feel sore today. Tomorrow evening will be the big test after a long cycle. Wrists are just a little sore, but they will do. Right shoulder aches a little. However, the Chalfonts may be the unexpected problem. I just keep moving in the saddle and that should do it.
The countryside is very 'French', wonderfully so and as one expects. We criss crossed using at times what are only country lanes.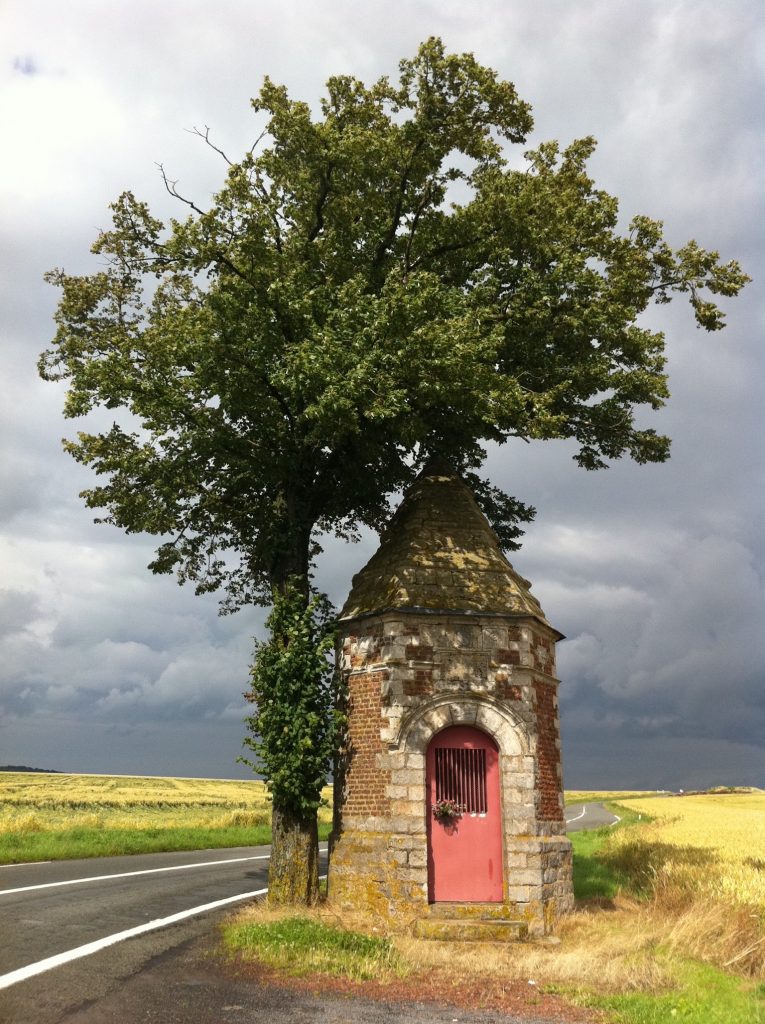 Fabulously traffic free. The fields are full of ripening corn, fringed with poppies and cornflowers and other 'stuff' I can't name but they look lovely. There are lots of cows.
We missed a turn at the end of the day and got too far south. It turned into a blessing as we hit a main road going straight to Arras.
Despite the traffic (there was plenty of space at the side making it feel safe) we were able to get some speed up and arrived in Arras at about 5.30. So that's an 8 hour day including stops. I think we cycled about 74 miles.
Grant : "Lumpy and rain as expected, some fantastic roads which make you grin ear to ear.    Kirsten had some fun getting through the one way streets of Arras and narrow lanes.  Afterwards a beer was needed to calm the nerves. Into Arras on time, the Chalfonts are behaving, however the leg warmer has created a pressure point on the back of my left knee.  I am hoping i can make it into day two without further injury. Still getting used to the new handlebar position, meaning my palms are tender. Not a good start".