Woke up early to a clear blue sky. The city was quiet as very little sound reached the fourth floor of the hotel. At 17 euros each for breakfast we decided to buy our own, and as the suite came with its own kitchen and dining area, that suited us very well indeed. We had eggs.
We have 63 ish miles to go today following the Rhône valley. It will be hot and so fluids and plenty of them will be necessary. As it turned out the temp reached 38.4 degrees, which I think is enough to melt an ice cream on Portreath beach. We left the city just as it was waking up, putting on its make up and preparing itself for another day. Delivery drivers vied for space with bin men who jostled cycle couriers. A few souls were off to the office and would cross the road nonchalantly in front of us, but the traffic on the inward bound route was building up nicely. We got a good look at this Gothic, Victorian, Edwardian, and modernist city from the inside. Bikes are great for city watching, they get you places that are difficult by car.
First we crossed the Rhône, then into the old town and then over the Saône to then turn left southward to the confluence of the two great rivers. Dodging traffic and following railway lines we eventually stopped where the two rivers met. Lyon at this point is industrial but with new developments arising on the banks of the river. From this point it would be the Rhône we follow all the way down. So far, so much sunshine and a Chalfont index of 0! This was going to be a good day. We passed a sign to Montpellier – 320 kilometres. The first we have seen.
The river was followed by the railway and all day we were treated to freight trains and only one passenger train. There is a Renault factory in Lyon which explains the cars being transported south and the empty flat bed car trucks being carried north. Our path kept criss crossing both river and rail as we descended the valley. The views were stunning. The river is wider than the Thames at times and there has been a canal built which is just as impressive. Huge barges sail up and down the canal taking who knows what to god knows where. Don't think canal or narrow boats, these things are massive, as is the canal itself.
We stopped for coffee and pain au chocolate in a place called Givors, which Grant insisted on calling Illogan. Given the lack of evident inbreeding in Givors this may have been a bit unfair. 'Twas a strange place nonetheless, where the purchasing of basic victuals should have been a doddle. A croissant in France should be as easy to find as a filet mignon, escargots a la Bourgogne or a mistress. Not so. However, the ever resourceful Kirsten literally turned up with the goods. We were briefly semi harangued by an old man for sitting in his favourite cafe chair, so maybe we were in Illogan after all as there are many strange old men in Cornish villages. We also witnessed a bus being held up by a parked car. Horn blowing and gesticulations failed to move it. When the young Msr turned up to shift the offending vehicle, he promptly gave the woman bus driver a kiss on each cheek and drove off. France eh?
The Rhône valley at this point is flanked by limestone hills which are festooned with vineyards. Wines to look out for are those from Côte de Rotie, Hermitage, St Joseph and something from Carnas. The latter was recommended by a travelling Danish wine buyer. However, what do the Danes know about wine…? Any culture that bases its whole cuisine on the pig and beer ought to have its prognostications on viniculture to be met with a large doses of salted belly pork.
We discovered another voie verte called the VoieRhona. This is another long distance cycling path along the Rhône. We joined it at a place called Salbons and followed it until Sarras. There are plans to take it further south. At Tournon there is yet another going south along the banks to Valence. I need to research this but it looks like there are plans to take it all the way south.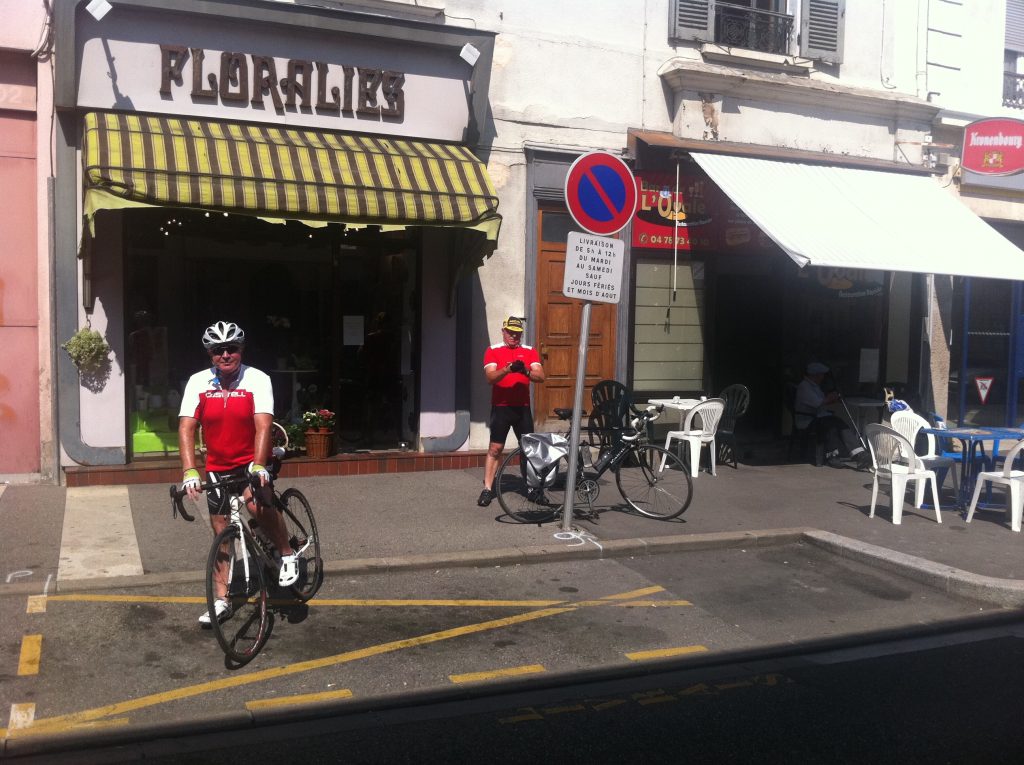 Despite the heat the cycling was pure heaven, have I mentioned that this might be the best cycling on the planet? The cycle path took us along the river and the valley widened out, cut corn and hay bails on one side the river and the canal sparkling on the other. At one time we were ambushed by a field of smiling sunflowers in full bloom as we got to the apex of a small bridge. There they were, unashamedly flouncing their colours at us as we sped by. We were also assaulted by the heavy scent of a herb meadow. Rosemary? Thyme? The herbs were green looking. Lost count of the herons we disturbed, the skittish birds would lop away from us as we approached. I don't think they get to see much Lycra, and if you know what's good for youneither should you.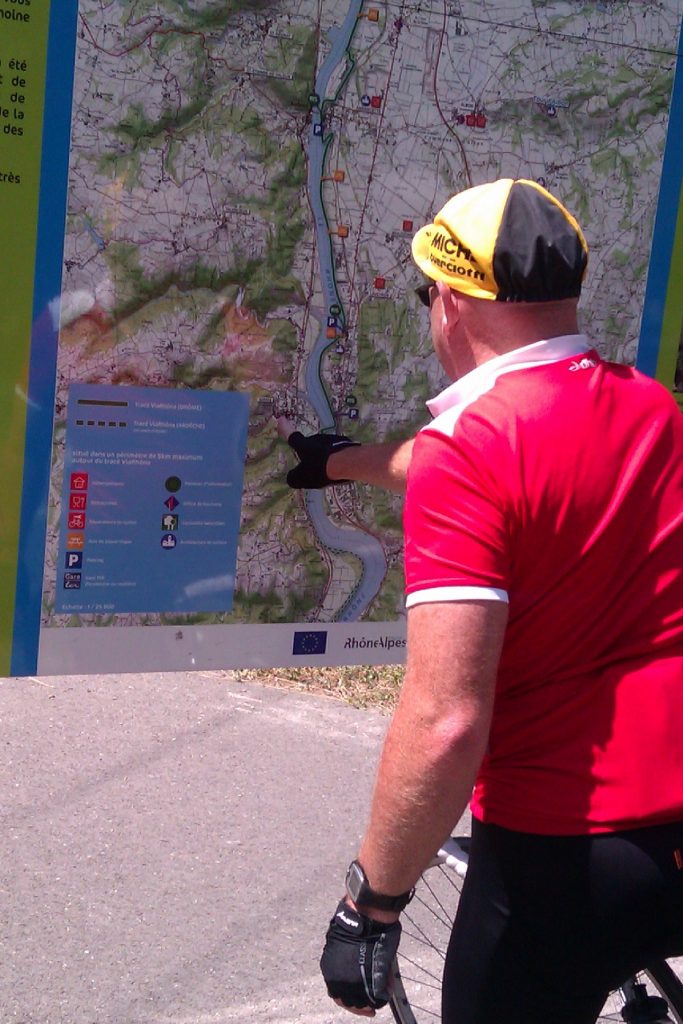 Arriving in Tournon at about beer o clock across an old wooden bridge open only to walkers and cyclists, it was beer time. We had drank about 4-5 litres of fluids and were still thirsty. So we have to have a cold beer, a pastis and then dinner (steak x 2 and ribs x1) washed down with a carafe of Hermitage which just happens to be the hills sitting above us as we eat.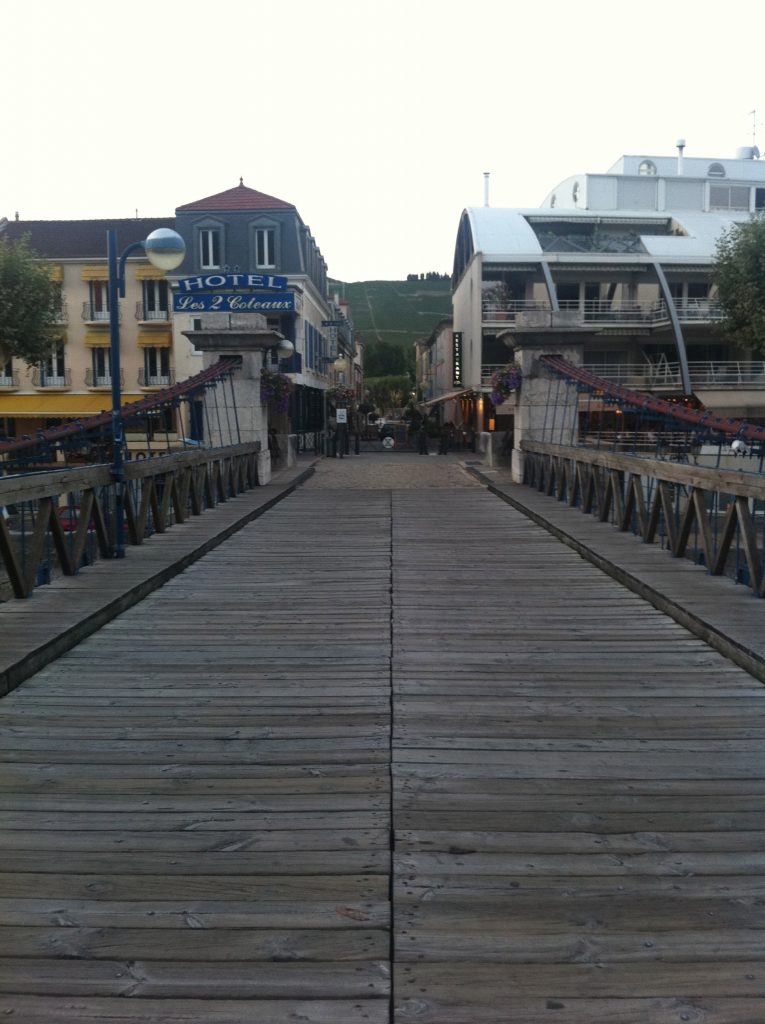 The sunset was glorious, and we could see the Massif hills way to the east rising high into the dusky sky and gilded pink by the rays of the sun. Time for bed said zebedee, but not before two more freight trains rumbled pass the hotel as we sat watching a bat with a beer (I know, sentence construction is poor here, it was not the bat who had the beer). Tomorrow is 67 to Bollène. We are very far south now, and soon Ann will be flying down. Hurrah!