Expecting a short but very hilly 30 mile day to Avignon. the first 20 miles will see us climb 1700 feet into Orange then to the town of Chateauneuf-Du-Pape (I think we've all drank some wine from there at some point in life, so why not go there for a…coffee). Let's hope the legs are okay from yesterday, both Ben and I are feeling a little sore, more from the heat and time in the saddle than the exertion.
In the event, we decided to use the Avignon 'Bis' route via Pont St. Esprit, which took us to the west side of the river, a very welcome 37 miles downstream. Now it is easy to get complacent, what to comment upon when you are riding such a glorious area. Birds of Prey aplenty, stops for coffee in small provincial towns (in Provence by the way), gliding passed the Rhône, vineyards, Chateauneuf-Du-Pape and duck croissant a l'Orange.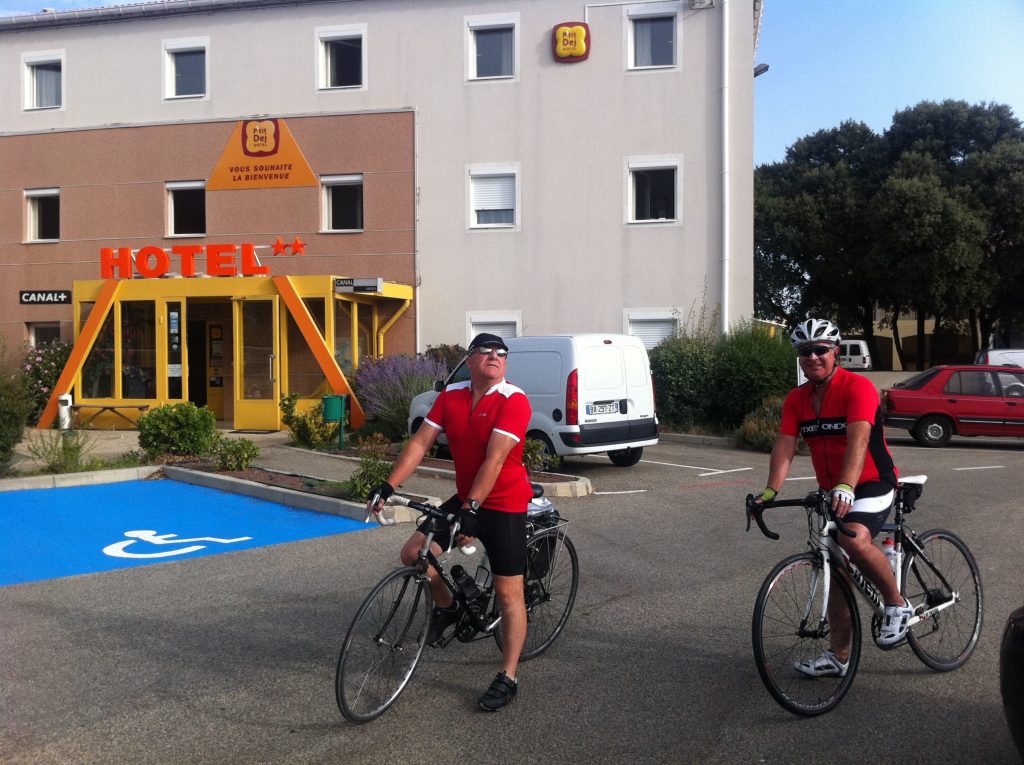 My legs are telling me that they worked hard yesterday. The 'hotel' in Bollène laughingly called itself 'petit' dej' which means 'breakfast'. Now, if I called my establishment 'breakfast', which is almost a boast, I would ensure the coffee beans were ground there and then, the cornflakes were harvested from the field of corn nearby, I'd offer roast hog, foie gras and dancing girls without tassels. You can see where I am going with this one can't you? Last night when we arrived there was a 'troupe' (is that the right word?) of German Bikers on Harley Davidsons. They had all shopped at the 'Gear for German bikers R Us' which, as you know, throws in a free pair of dungarees with every 100 euros spent. The beards were their own. They had left early this morning. I don't think they could face a breakfast of such ineptitude without feeling the need the crack chicken necks. Let's hope the 'premier classe' in Avignon lives up to its name.
We set off in what is for southern France cool ish weather but it soon heated up. The limestone hills of the Rhône valley are actually cliffs at many points rising vertically from the valley floor. We passed a huge nuclear power station but we are ok. I checked my cojones this pm and they do not glow.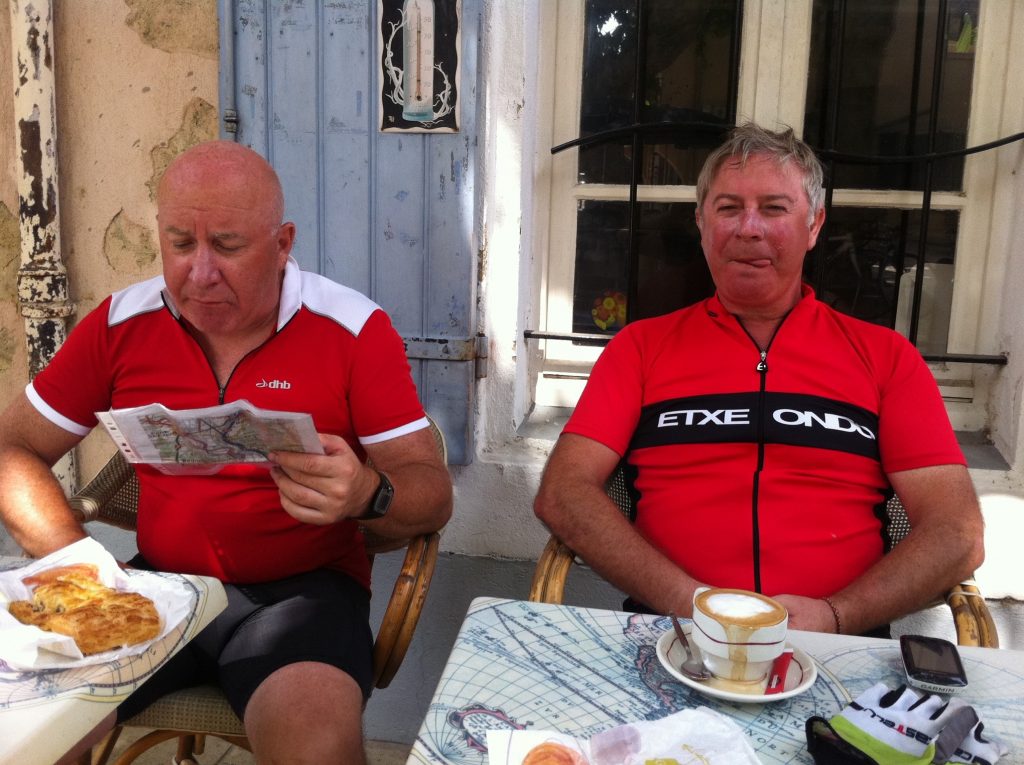 Phew! Coffee was at a pretty little village called Caderousse. We sat outside in the shade of a tree at a cafe in the village square 'comme les autres' and watched the world go by. We said our 'bonjour, Messieurs Dames' like the locals. This is always said when entering any establishment, be it cafe, pharmacy, local shop. I think it is why they think us rude for not saying it. Taffy Jones, my old English teacher, told me that factoid many years ago, he was not wrong. They still do it. At this time of day (late morning) it seems only the old come out to play. I watched as one Msr turned up on an old bike for his morning bonjours and a coffee, another wearing a beret to do the same. Joy. Madame sat at a table nearby and just watched the dust settle in the sunlight. A Porsche Carrera slowly drove past and Msr waved to Madame. Perhaps he was arranging a secret triste, for some joie de vivre counting on the cachet his Porsche gave him. Perhaps he was just picking up cream for his Chalfonts. Such was our morning.
The road to Avignon was another dream along the river. We saw kite like birds, one of which was fishing like an osprey. Do kites fish? The railway line again followed us into town. We got there at about 12 ish but found our 'hotel' at about 1330 ish. This place is on an industrial estate out of town and the sat nav took us to some weird wasteland places, so waste land we thought that this could not possibly be the place. Turned out it was a short cut to the estate. Hotels calling themselves premier class ought to…..but you know the rest. Suffice to say that the 'bathroom' is a moulded plastIc cubicle that fits together with the rest of the Lego the hotel is built of. It is a good job Ann did not turn up today because she has 5 star tastes and this hotel is barely twinkling.
The bikes held up well today with no punctures or bearings becoming loose. They are safe in our rooms tonight.
So we had the afternoon in Avignon. It was hot. We caught the bus into town and found a beer. Avignon itself is a tourist trap, there are thousands of the bastards here, jostling and demanding this and demanding that as if they own the bloody country. We found a cafe in the pedestrianised bit of the old town. Avignon is old and houses the palace of the popes. I did not see him today and so could not genuflect my order for beer. A jolly lunch was had served by probably the most disinterested and under trained staff in France. The food was fresh and tasty but getting attention required trouser dropping and doing a windmill with one's willy. I have not done that since I was 16 and in the Navy on shore leave. I was ignored still. They have seen a lot of British willies in Avignon.
The town's wall is also intact and impressive, but the bridge stops in the middle of the river (the one they all sing about). Why, I know not. One for google methinks. So you have a bridge going to absolutely nowhere and yet because some schoolchildren sing a song in French schools many years ago tourists pay, yes pay, to walk to nowhere and back again. Now I am not saying it is not a nice bridge, as bridges go some of its arches are very nice indeed and there appears to be a chapel halfway across. They do God bothering seriously here. A chap can't even cross a bloody river without saying a few hail Mary's and paying for a few indulgences. And then finds out he has to turn back and find another crossing. Even the Scots would wince at this blatant money grabbing.
I danced on the other bridge built in the 60's. It may not have the history but; by focals; it gets you to the other side which I say is a job well done for a bridge.
The Pope's palace is big. Very big. I think the Pope is making a statement with this sort of hubristic display of pomp and wealth. You have to pay to enter to see how wealthy he is. So, someone who says he follows someone who argues we should be kind to the least of them, feed the poor, and bangs on about rich men finding it tricky to get into heaven because a camel is in the way, and that sort of unfashionable thing, takes money from those who have just a bit to put in his own bank account and in return as the vicar of Christ on earth can get God to turn a blind eye to your little peccadilloes. I will forgive you your sins for half price when I get home. In fact just send me your dosh now and will do it while I am here.
We found a wine bar. Oops. Several glasses later and the purchase of some fine wine because we got suckered by an intelligent French wine seller, we caught the bus back to our resting place. Wine: Chateuneuf du Pape, Luberon, Gigondas and that is as close a description as you are going to get. I know that is about as specific as saying I bought some English cheese, but after the first glass who was counting?
Dinner was a nondescript pasta bolognese in a non descript hotel. We are tired and need sleep. Only a short one tomorrow to Tarascon, when Ann will be turning up!