As both Grant and I have brought our iPads we now 'FaceTime' instead of old fashioned phone calls, or heaven forbid, knock on each other's doors and speak in real face to face time. And so it is at 0656 the FaceTime chimes alert me to Grant's wake up call.
Breakfast was coffee and croissants, maybe some cereal but that was about it. No boiled eggs and no ham or cheese. Disappointing really; as stocking up on the protein for the day is a good idea.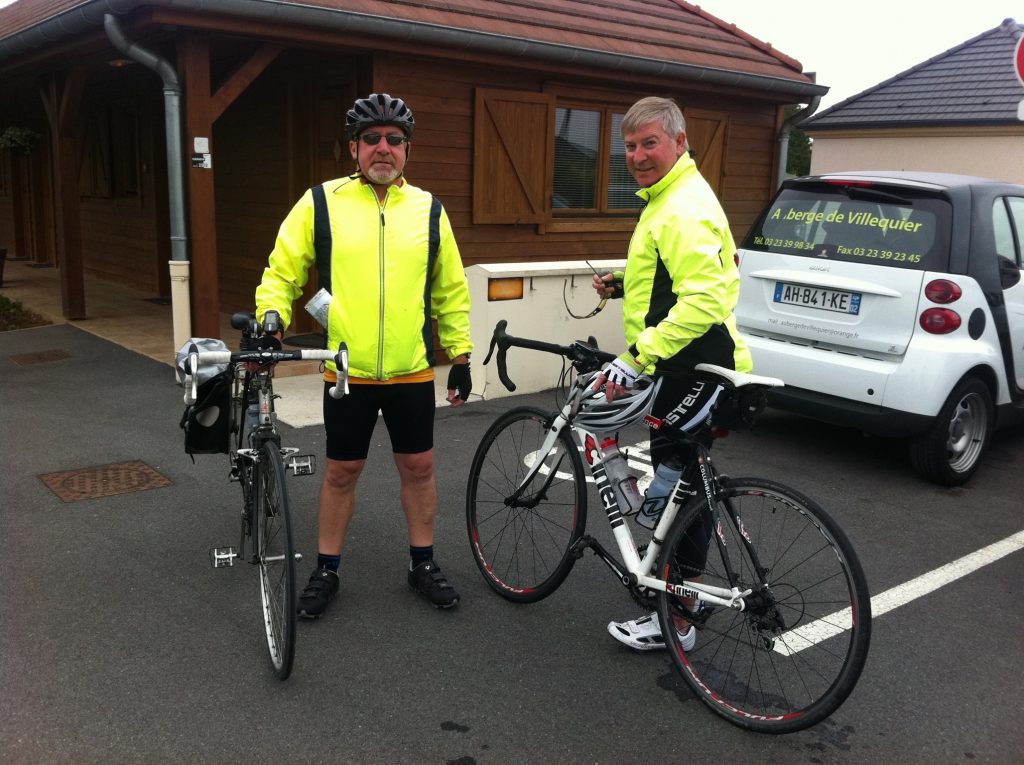 The day started with lowish clouds and grey, grey, grey. Will the sun ever come out? At least it was not cold. Not warm but no cold. And no rain, which is always a bonus. Not the sort of day to send one off cheerily, in fact it was the sort of grey day to make you want to stay in bed. The Chalfonts had cheekily made their presence felt first thing which gave rise to a little trepidation. Funny how physical activity makes you much more aware of what your body is telling you. Mine needs a little coaxing, like a recalcitrant schoolboy, in the morning to get going. I resorted to assorted pharmaceuticals to ease myself into the day. The usual omeprazole for acid reflux (entirely necessary given the abuse the stomach gets), then ibuprofen for the residual inflammations around joints, then sun lotion on the arms (more in hope than expectation), then chamois butter for lubrication as a prophylaxis for chafing, then deep heat for the leg muscles….however I draw the line at Chalfont cream. Let just see how they play up before I begin that sorry business.
So, variously lubed, creamed, drugged and oiled we set off on delightfully empty roads. Where is everyone?
The first few miles ticked along nicely. I am finding that it takes about 20 minutes or more to get into a rhythm. The Body at first protests at the amount of physical energy being expended as this is not what it is used to. It seems to fight against being on a bike, and finding the optimum riding position to keep Chalfonts happy is a running battle. Just when you think you have it cracked (no pun intended) one has to slightly change position. However there comes a point where the body gives up and everything settles down nicely. It even becomes enjoyable and as the day goes on things just improve. There is always a little protest just after lunch but the battle has already been won.
The road wound its way through woods, the surface here under the trees just goes to pieces. My chain comes off three times, not sure why and I get black oily hands even though I have packed gloves for just such an occasion. I thought there was something seriously wrong at first with the cables but all seems fine now. Little did I know that this was a warning of issues to come.
The first stop for coffee was in Prémontre, which has a fantastic chateau and which now is a hospital. The important thing however was that the cafe had pain au chocolat which Grant devoured before I had put my plate on the table. I think he was hungry. He needs eggs in the morning.
The countryside was undulating (hilly) And quite different from the flat plains of Pas de Calais. We were now in Picardy and on the way to Champagne! One thing I have noted is the relative absence of swifts in the villages. Usually they scream down around the rooftops but all is strangely silent.
There are plenty of swallows and martins but my old friend, the real harbinger of summer, the swift seems to be on holiday elsewhere. Do they know something we don't?
It is still Sunday in France.
Just before lunch we hit a road called the Chemin de Dames, which runs along a high ridge. The views are stunning either side. We pass a German soldiers' cemetery, here the crosses are all black. Nice touch. Even in death they are the evil ones it seems. Kirsten drives by and we aim to meet up in a place called Bourg et Comin. We descend to it down the hill sides, the road has proper hairpin bends and is a belter! Then the road follows a canal for several miles. Lovely. Bourg has a church but, as we find out, not much else. It is Sunday in Bourg. However we find an auberge and gladly stuffed our faces with cod for me and chicken for Grant. Kirsten had been on a wild goose chase trying to find shops that open (on a Sunday? At lunch time?).
After lunch we set off in what promised to be warmer weather. The promise was delivered and we cycled towards champagne country in sunshine, yes, you read it here first, sunshine. The roads were dry and often the surface resembled silk. There were one or two little 'testers', hills to make you work up a sweat. The best however was just before a village called Hermonville. We were very high up and upon cresting the apex the views stretched out below for miles. The road descended quickly twisting and turning but with no hedges so one could see far ahead and take the near hair pin corners on the wrong side of the road. The slopes down to our right were vineyards! Champagne!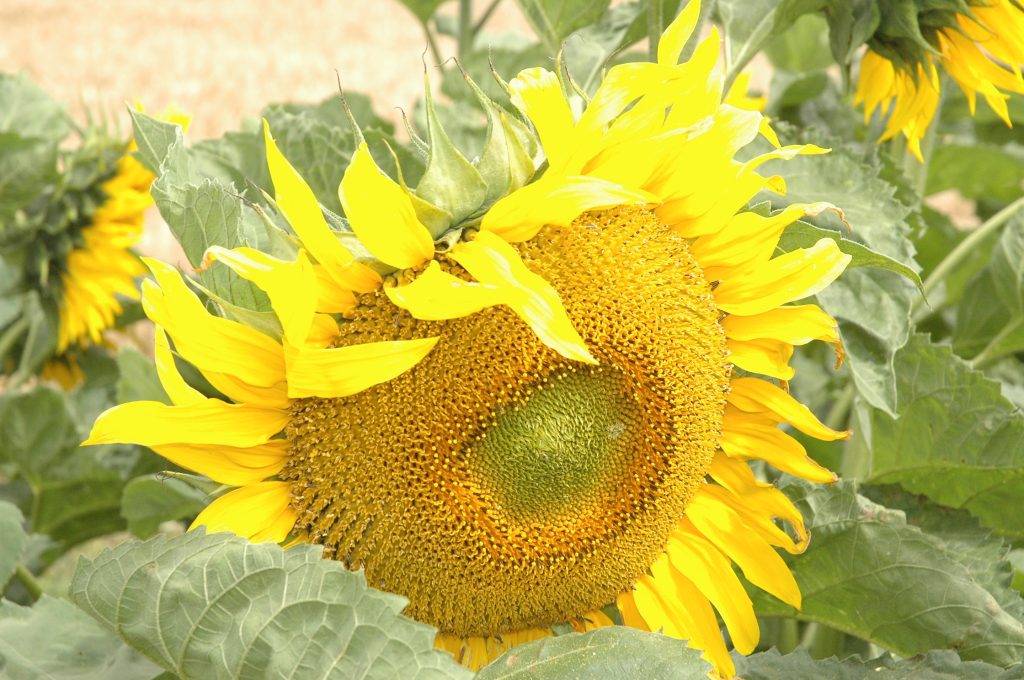 Hermonville was pretty, built of stone and not unlike the Cotswolds. It was Sunday in Hermonville, so no coffee. Or tea. Or anything. Just as well that Reims was only 8 miles away (the other side of a bloody big hill as it turned out). As we left the square to ascend we met and chatted to 3 people on bikes who live in Reims. Two men and a woman all in their fifties/sixties. Lean. Tall. Long legs. Saying our au revoirs in the village square we set off up the hill. Half way up I hear voices behind and sure enough two of them were catching up. I let them past, after all they had not cycled 54 miles today. I saw them moving on towards Grant however, who upon hearing a chase, his competitive streak kicked in and he paced them to the top. Did I say they were also on mountain bikes? He was not caught. The final few miles was through glorious sun soaked champagne vineyards. Heaven. Proper France with sunshine. Did I say the sun was shining? It feels warm, remember that feeling?
I think a beer calls, it is now 1732 hrs. 64 miles today I think. So, we have done 71 + 61 + 64. Tomorrow is a rest day (45 miles ish). We are staying in a Tinqiuex which is suburb (industrial estate) only a couple of miles out of Reims. The hotel is actually fine with very good facilities populated by traveling business, sales men/persons/women, tradesmen (etc) and families (both genders represented) on tour.
Tonight we visited Reims. The cathedral is without doubt one of the finest gothic structures in Europe. I say this having been to Cologne, Paris, Chartres and Scunthorpe. Without a single cloud in the sky the light shone directly onto the facade bathing the stone with an orange glow. Inside the stained glass windows shone with brilliant illuminescence. The vaulted clients and marble colonnades were breathtaking. During the first war the Germans stormed Reims and the cathedral caught fire. How a stone building catches fire is beyond me. The French retook the city and chased 'Les Allemands' from the cathedral. Outside the stone work bears the scars of battle. "If you look closely you can still see the bullet holes". We just do not get this in the same way in the UK, we have bombed cities but the repair is such as it passes us by. Here the signs of skirmishes are everywhere. They are too small to bother repairing and so remain to this day.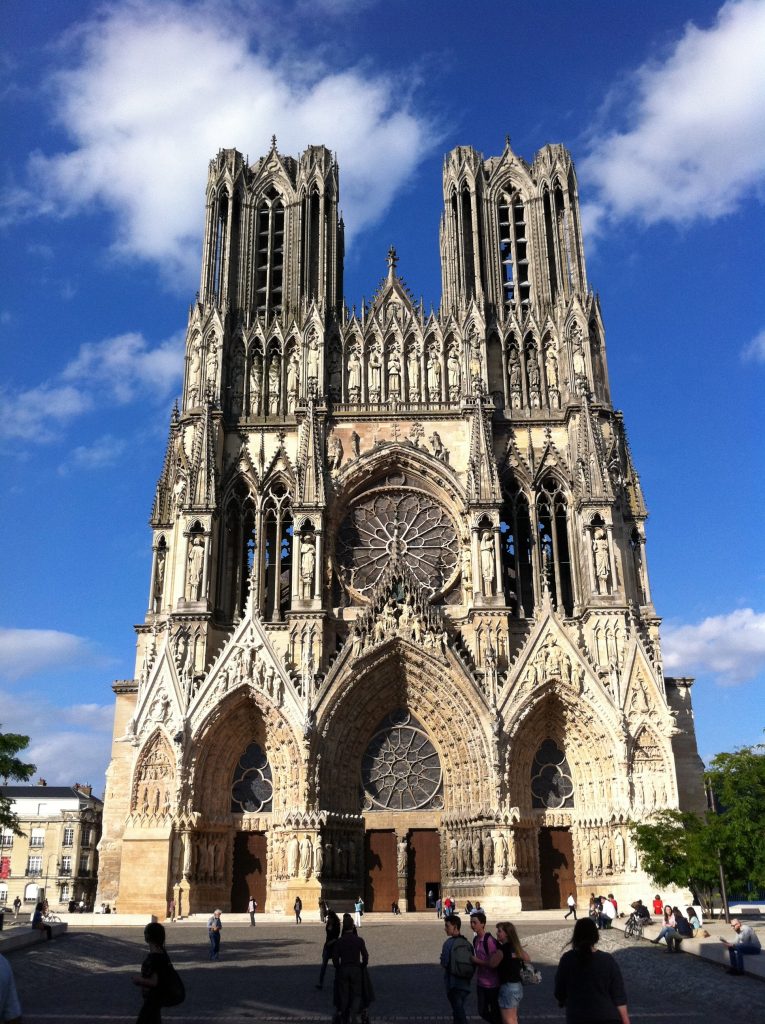 Dinner in Reims: We found what turns out to be a very good Italian restaurant. So, carbonara for Kirsten and I, while Grant had linguini with clams. A small pichet of vin rouge to accompany. Bloody marvluss. I learned from previous nights and missed out the starter. Just as well, because the carbonara was enough. Tomorrow we go deeper into champagne country through Epernay and onto Vertus. Bed calls, it is only 21:47 and I am tired.
Bonsoir mes enfants. Did I mention the sun is shining and it is warm enough to sit outside at this time of night with a cold beer? Well, it is.