The day opens brightly, dry. Oh joy. Now are the body's necessary working bits in order? I slept well, no muscle aches and wake up feeling just fine. 61 miles? Piece of cake. Now the only fly in this ointment may be the Chalfonts, so far though they are behaving themselves. In Nepal many years ago I learned a valuable lesson for travellers away from home comforts and an ambulance: "If you look after your ring, you're ring will look after you". Sound advice. It is the smallest things that at times can upset the biggest endeavours. Weak links in chains come to mind. Remove lynch pins and the machinery stops. Chalfonts are a kind of human lynch pin, fine when in place and fulfilling their proper function of not being a pain in the arse. However, out of place they are a wart on the nose of the May Queen, a stain on the character of the virtuous and Satans' secret weapon for felling the mighty.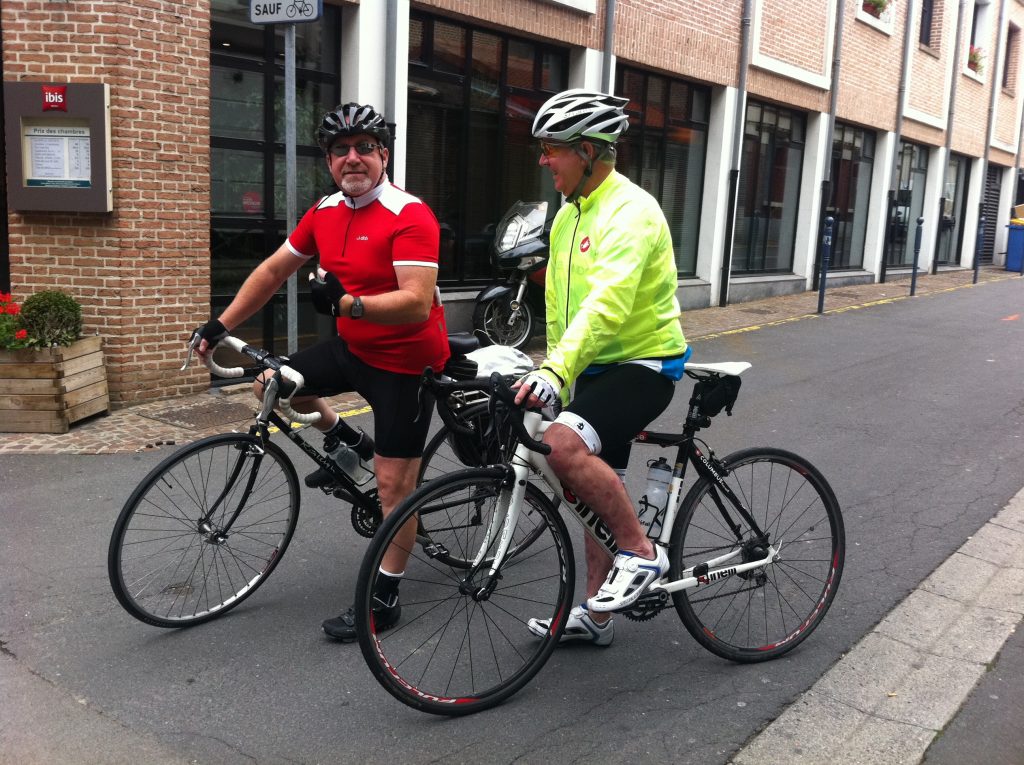 So full of cheer we set off. Monday morning in Arras looked like Sunday, and as we cycled through many small villages I thought Monday had been cancelled and Sunday started all over again. Every day is like Sunday, so sang Morrissey, well it is here in France. No one around, no sign of any work being done, nothing. If I was a born again Christian I would think the rapture had happened without me (don't worry, it has not, and is not likely to).
Speaking of which, Christians I mean, they do like their christ's over here, preferably on a huge cross. The bigger the better. It's as if each village is in competition with the others to see who has the biggest, "You show me yours and I'll show you mine…but bigger". I get the point, this is a catholic country and, wow, does the church let you know. Peasants out in the fields can look for kilometres across to their village and see God watching them from a local crucifix. Brittany does not do this to the same extent. Maybe it's because this part of France is close to Germany and thus they have more to look to God for? Mind you, where was Jesus in 1914 and 1939?
Having left Arras behind we got to about 5 miles out when I remembered that I had left cycling shorts and a top in the hotel room. Kirsten was still there thankfully and so a text message alerted her to my f'wittery and the items were duly salvaged.
A few miles on we came across another war cemetery. This time we stopped to pay respects. Among a few named headstones were many which simply said 'a soldier of the great war'. Tragic. Not enough left of them to identify the regiment even. Later we crossed the Somme river. At the bridge the tarmac had been stripped to leave the cobbles on view. There were tank tracks clearly cut into the cobbles. Another reminder of this area's tortured past.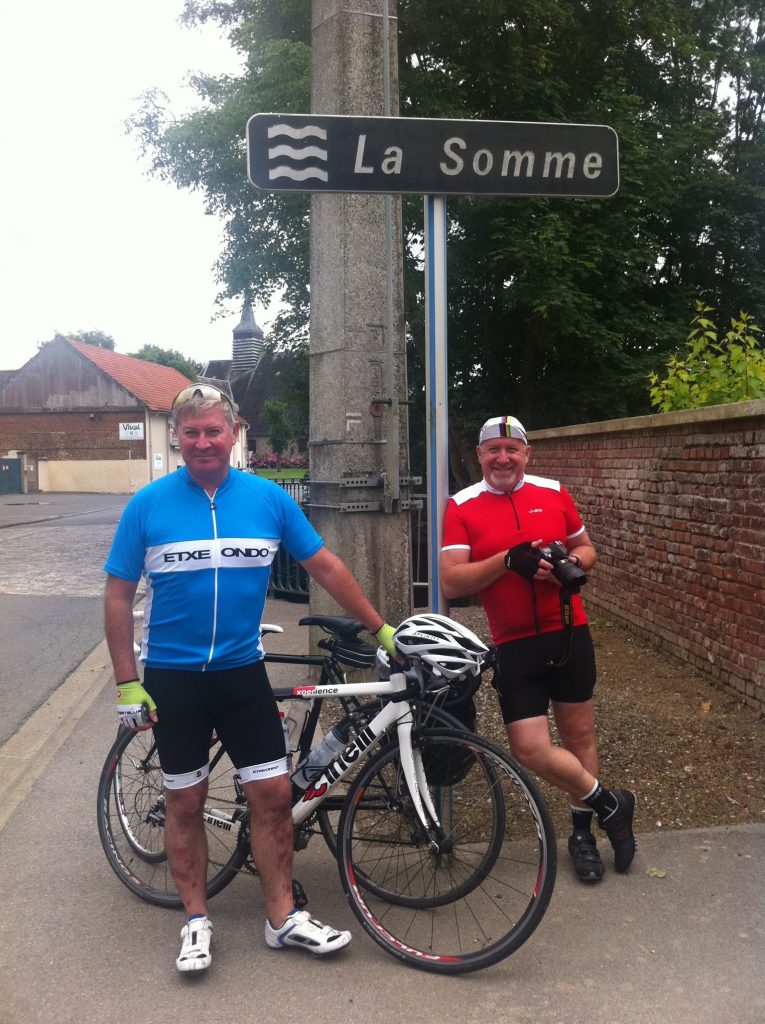 Earlier we had descended into a small valley shrouded by woods either side of the road. Just as we got to the bottom, a deer ran across at some speed just a few feet in front of Grant. If it had hit him, he would have been thrown off his bike with some force. That easily could have been game over. He would have been roadkill, of which there is a great deal here. Surprising, as there is very little traffic. Maybe the rabbits, hedgehogs, voles and birds get complacent, maybe they think the road is theirs given the lack of cars hurtling along. They do however get killed in surprising numbers. We had rabbit tonight as an hors d'oeuvre. This is France so you never know where they source their comestibles.
The weather was kind today, no rain but a bit of a cross wind which made life a little harder. This evening is brighter, the grey clouds have gone but still not wall to wall sunshine just yet. The poppies and cornflowers continue to fringe the cornfields all the way, they really are a wonderful sight.
Villequier-Aumont is rural, very rural. The road wound and sneaked towards the village but without going into the centre. This is unusual as small roads invariably go straight through the villages. The Auberge sits up upon a big hill on the other side of the village, so it was a good tester at the end of the day. The cabins are very clean and a welcome sight after the days cycle. We quickly showered and secured the bikes and then headed for the bar. Madame kept us fed with an assortment of nibbles and beer until dinner and I tried to engage her in conversation but beyond establishing that the clock on the bar wall was 'cassé, il ne marche pas' we smiled and gestured in mutual incomprehension.
Dinner tonight was a foi gras starter for Grant, while Kirsten and I had a 'Picardy Special' involving crepes, ham, mushrooms cheese and cream. Then fish for Grant, bavette steak for Kirsten and I settled for a 'packet of crisps' (chicken), followed by a nice little Beaujolais. I had promised myself that tonight I would have only the main as the starter last night in Arras was huge. I, of course, failed. I shall try harder tomorrow. Mind you, the cycling had used up 3,200 calories today, 3,500 yesterday.
It is a hard seeing a fourth chair at table without my partner Ann sitting on it (makes sad face).
In the dining room we got talking to a couple from Cumbria on their way home in a Triumph TR3 sportscar which was 53 years old. They had been to the Dolomites via Germany and Switzerland. They report glorious temperatures down south. Hurrah!
Day's end 'Chalfonts' report: so far so good, but keeping a wary eye on them just in case. The chamois cream works. We just might do this!
Tomorrow is another 63 miles to Tinqiuex in Reims (pronounced 'Rance', so there). Forecast is sunny intervals and 20 degrees. We will see.
Grant: "Dark skies mean putting on the rain coats and keeping warm is a must. Seem to have recovered from last night's aches and pains. Wonderful scenery flowed by and after a well needed coffee stop we crossed the Somme, the bridge still scarred from the tank tracks that rolled across it nearly 100 years ago…. At the end of a good day, with only two category 1 hills (yep, tough) and detours that add to the journey we find ourselves in a valley believing this is the end point, not a good idea as your legs switch off. A quick call to Kirsten confirms that the Auberge is at the top of a steep hill…however with the promise of a warm shower and food we power up the hill with a laugh and reach a basic but delightful "motel". A few beers and great food mean a good sleep in preparation for day 3".