The baseline to use to judge your own need for fitness and distance training is that of two middle aged men, certainly not fighting fit. We had a couple of 2-3 day cycle tours' experience in the UK with a maximum day of 71 miles in one day and averaging 45-55 miles per day. The terrain then encountered was 'undulating' around the Cotswolds, the Chiltern's as well as the Oxfordshire plain. The hills encountered in the UK are far more challenging than anything found on the route we took through France.
Ben cycles regularly (at least weekly) around West Cornwall taking in distances of 30-50 miles, while Grant had several circuits based around Watlington in Oxfordshire. If you are younger and fitter, then this route through France will pose no problems, in fact each kilometre was an absolute joy. We of course planned to go supported by Kirsten driving a car, if you go without that support and load yourself up with panniers and all the necessary equipment then you are the sort of cyclist that requires no hints or tips from us. You are already seasoned in all the required methods and requirements, or you are mad. In any case this tale is not a 'how to', there are many other well listed accounts of how to do long distance touring published elsewhere.

The bikes: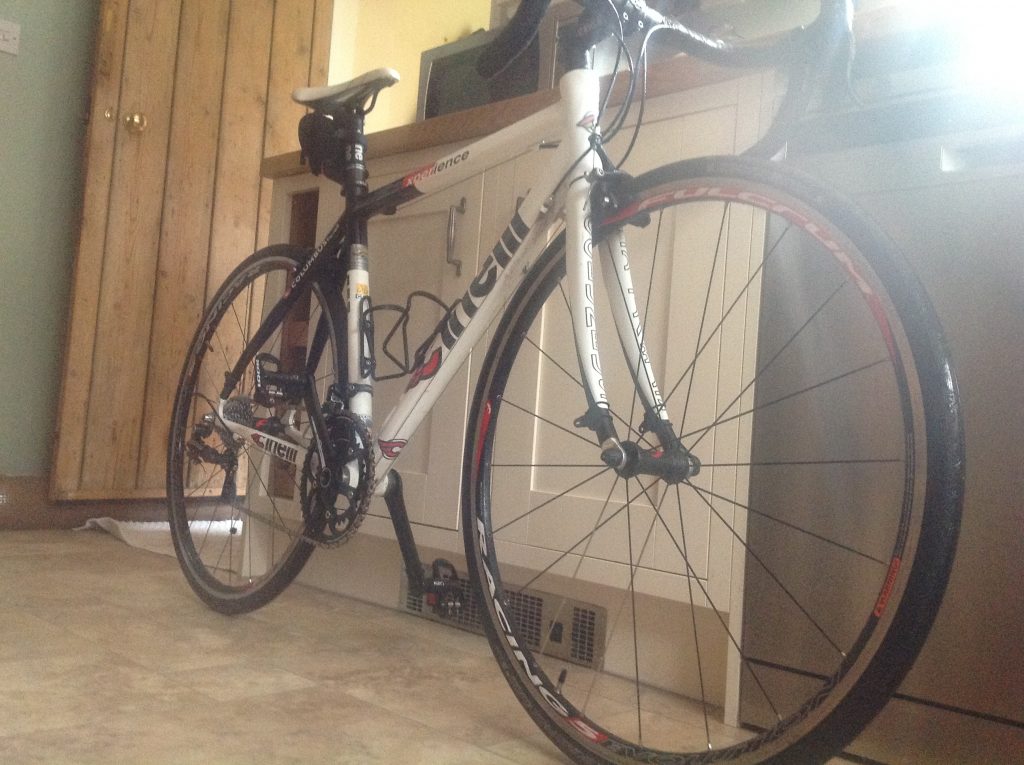 Grant chose a 'Cinelli Xperience', a carbon fibre framed, Campagnolo Veloce groupset (compact) and Miche (12:27) cassette, gizmo accessorised, racing bike on 700 x 25 tyres for the tour. I don't know what that means either.
Ben had ordered a Merida carbon fibre framed Scultura Evo 906. However, due to delivery issues the bike had not arrived before the due date. So, the back up was a 25 year old Raleigh Royal, 501 Reynolds tubed (steel framed) tourer with 700 x 23 tyres.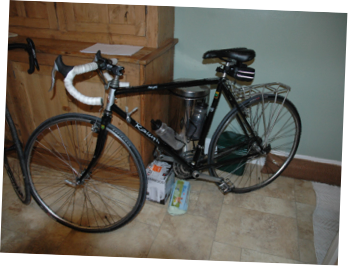 The Raleigh had a pannier rack fitted for the one pannier taken on the road. You still need tubes, levers, suncream, gel bars, shower tops, water, money, and phones while moving if you don't want to waste time looking for the essential support you need.
We both booked fitting sessions to ensure the bikes were set up for our own personal sizes and this is money well spent. If you only cycle for a few miles on the flat this is probably wasted money as you will not feel the difference. However if you intend to go long distances, by that I mean over 50 miles, you will feel the difference and it is well worth a visit to someone who knows. 
Both bikes were serviced just before the trip but that is no guarantee that something mechanical (such as a snapped spoke) will not go wrong. We took very basic spares, tubes mainly, and as we were supported by car we could have relatively easy access to bike shops. However there are fewer of these than you would expect in France, not every town has one, and if you are on a tight itinerary then wasting time trying to trace one will eat into your time. 

We are not bike mechanics. We did not plan to fix anything major. 
A Bit about Health….
On the road in summer in France you will need plenty of water, aim for drinking 1 litre per half hour and supplement it with electrolytes when the temp gets above 25 degrees. You may lose 4-6 litres per hour in heat, do read up on this and so see for example: http://www.cptips.com/fluids.htm. The heat will sap your energy faster than you think and dangerous dehydration is always a possibility.

You will need food and will feel hungry quickly. We took energy gels as back up and planned to meet Kirsten with victuals for mid morning, lunch and mid afternoon stops. We considered that at our age the health issues that would stop us dead would be things like joint and back aches, or saddle sores. Chamois cream works wonders so that the sores were not a problem. Take something like sudocreme in case you get a chafe in any case.
The unexpected health issue which can make your day miserable is that of 'Chalfonts', (Chalfont St Giles – Piles). We joked about Chalfonts, but in truth they are no laughing matter. If you have been prone to them you may already have a regime worked out, if not then my advice is to hit them hard and fast. Apply that cream liberally and often. They were the unexpected joker in the pack that for a few days threatened to spoil the party.

The first three days are the tester, after that your fitness levels will improve so that that hills become fun. Saying that, after Dijon there are not hills to speak off. It is pretty much downhill most of the way. You may not lose much weight but you will get fitter, no doubt about it. Other than that, health issues arise as from any holiday experience: sunburn and diarrhoea, and of course the possibility of minor trauma. We did take a basic first aid kit to deal with minor cuts and abrasions. After all, you are in France, it is an EU country with all modern NHS type faculties. just bear in mind a doctor's visit may cost you 62 euros in cash.