Today is Sunday in France.
Today should be 51 miles which at some point is also halfway. I will mark reaching the halfway point probably without much ceremony, in all likelihood it will be head down and peddling. The day has started with bright blue sunshine and the forecast for Lyon is 23 and sunshine. This will be a day for lots of water and sunscreen. The heat could make the 50 miles feel longer. The weather map for France is sunshine all the way so 'L'été est arrivé' ! The BBC are saying that the jet stream may be moving north, and means southern England will get sunshine as well. Let's hope so.
We forgot to have a carafe of water with the meal last night and I think the sun got to our heads. The mixture of bonhomie, beer and bravado made for an uncomfortable night. Forgot to get water and so had to motivate oneself to get out of bed to get it. I even dreamed of water at one point so my wine dulled brain was being told to get its act together to replenish fluids. I have dehydration powder and electrolytes tablets for the southern French heat but I need British common sense for French southern drinking. Note to self and others: do not underestimate the seriousness of dehydration and the need for water in the heat.
Big Jesus has gone. The huge crucifixes that adorn every village and entry to villages that were prevalent in Pas de Calais and Picardy have been replaced by far more modest crosses which look like they are fashioned out of wrought iron. We did stop at one large cross which had been hacked out of the local limestone. At over 10 feet tall, it was a prop from a horror film, designed to scare the living bejesus out of unwary travellers. I think that in the wine regions the populace no longer needed Big Jesus on the cross to remind them that they are wretched sinners. They are neither needed and/or they did not work. The church had lost the heart and souls of the local population to the produce of the vine. Who needs Jesus when you have champagne! The church instead reminds people of their sins by getting the peasants to build magnificent cathedrals such as the ones in Reims and Dijon. So one is a sinner on a Sunday with a service in church to allow one to repent with some wine (I bet the French invented that) and then back to tending vines during the other Sundays of the week. Thus: 1 day for Big Jesus in the church and 6 days for thinking about drinking wine, preparing for drinking wine, working at producing wine, harvesting the produce for wine and then drinking wine. It's a wonder the French get anything done. They have the TGV but I bet it was built on promises of getting to the wine faster than being on donkey. How can Jesus compete with that?
The road out of Nuits St George was magnificent. If you can imagine a ridge of hills rising to your right hand side, a bit like the ridgeway at Watlington Hill, or Carn Brea rising above Redruth but then stretching on for 30 or 40 miles then you have an idea of what the Côte de Nuits looks like.
There are villages perched upon the hills and acres and and acres of vineyards. The slopes come down to the roads and flatten out. To our left the land gently slopes to the flatlands which stretch to the horizon for what must be 50-60 miles. The views are just stunning.
The road to Baume is flattish and we zipped along at nearly 18-20 miles an hour. I entered the town with a Grin Factor of 10. This is Bourgogne country. White wines still a favourite here, we pass Montrachet and Pommard which boast very fine wines indeed.
If the CI is an indicator of pain, then the GF (grin factor) is a measure of pleasure. 0 would be 'it's ok I suppose', 5 would be 'this is quite nice' and 10 would be 'how bloody marvellous is this!' I reserve the 11 for special occasions, of which the descent to Dijon yesterday would have to qualify. Many many miles today would have a GF of 8-10. It is a matter of debate exactly when the GF cancels out the CI. Is it possible to have say a CI of 5 or 6 while having a GF of 8? Today though surely proves grin factors win hands down.
Making good progress through a small village called Tielly we were passed by a peloton of 4 cyclists all in the same colours. Grant was behind at this point and saw them pass me at speed. At the rear of the peloton was a lady cyclist with a very nice rear, apparently. I sped up to catch the peloton as it overtook me. Grant's version is that I sped up because of the lycra clad rear at the rear of the peloton. My story is that having been passed by a peloton on the first day and having no energy to catch them I thought I would try to catch this peloton to see if my fitness levels have improved. It has. I caught them up but in so doing we missed our turning. So, I am fitter, and if there was a nice rear at the rear, that is purely co-incidental. You decide which version of the event has more truth value.
We stop for lunch at a pretty little town called Givry. We ate fresh crusty baguette, charcuterie and cheese in the sunshine. About the only sound was the chirruping of sparrows. Cars were noticeable by their absence. The tiles on the roof of the town's medieval entry gate again were of various colours and glistened in the sunshine. The afternoon temperature reached 28 degrees. The corn is being harvested and so the fields are full of rolled bails of hay. Bucolic is the word.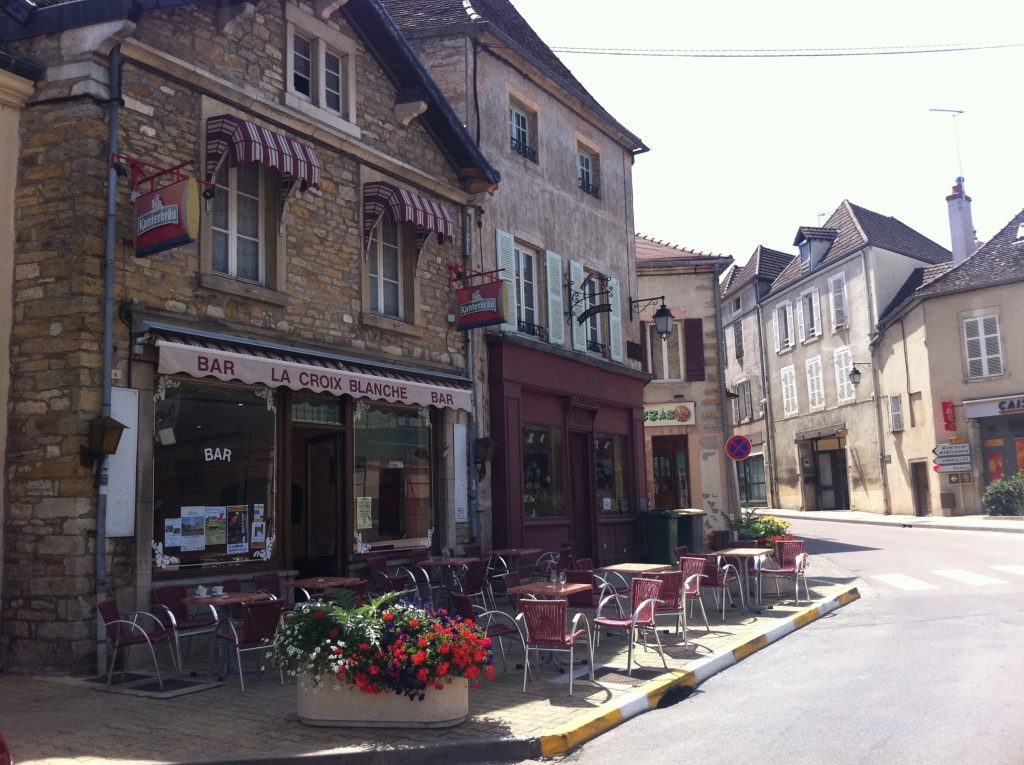 Leaving Givry we cycled on to find a 'voie verte', a cycle path this time converted from an old railway line. The surface was smooth tarmac and again we were able to up the pace. We were making such good progress that we forgot that a rendezvous had been arranged with Kirsten in a place called Buxy. So, arriving in very good time at our destination, we of course discover that Kirsten has been waiting in Buxy for quite some time, ready with her camera to catch an action shot of 'deux fous' entering the town. Which of course did not happen because the two fools were enjoying a cold beer at the hotel.
The hotel is in a very rural location. We have cows for company. Thats it. Luckily the last day of the Tour de France was on telly and we could watch Bradley Wiggins win the damn thing. This is the first time a Brit has won it, with his teammate Chris Froome in second, and Mark Cavendish winning this Paris stage for that fourth time. Bodes very well for UK cycling. My bike's rear wheel has been ok today but I think if I can, I will change it for a new one. I can't let team GB down.
When Kirsten eventually turned up we were forced to drink more beer and then pastis as an aperitif in a nearby village called St Gengoux. This was after a brief visit to a chateau nearby. If you have seen one chateau you have seen them all. Ho hum, deadly boring (not). The waiter at the cafe in St Gengoux asked us what country we were from, only to be given the reply 'Allemagne'. Maybe it is the blond hair, maybe it was driving a BMW all day, something made Kirsten think of Germany.
The waiter saw the BMW and said "ca c'est correcte" which I think means " Oh, more bloody Germans". He waved us off cheerily which suggests that French are enjoying the current euro crisis more than the Germans are.
Dinner tonight was a rare steak for Kirsten, salmon for Grant and I had what turned out to be pike. It said 'filet de brochet' on the menu and I took a chance. This being France it could have been anything. It was listed under poissons and so I guessed some form of fish would appear. It was delicious. The wine was from near here, a white Macon Village Chardonnay. Now, I thought only Mancunian girls on a knicker to ankle clinging hen night drank Chardonnay. But I was wrong. It was lovely. The waitress had been taking smiling lessons but I guess had failed the final exam. There was a good Gallic effort at 'bonhomie' (don't you think that it is strange that the French have a word for bonhomie when often they display so little of it….God, I love stereotypes), but I think in the end the effort was a bit too much. Just right now she might be having a lie down after expending all at effort at smiling for 3 grin factored up foreigners.
There is a new moon tonight as the sun dips below the ridge of hills to the west. The sky is edging salmon pink across the green fields and hedges. I took pictures of white cows earlier because Ann likes to see cows. Ann would like this scenery, she would like it a lot. Can't wait to share it with her.