We had eggs again for breakfast. I think Msr Le Presidente Hollande has pre-empted my letter and ordered toute la France to serve eggs for breakfast. At this rate I will be laying the little hard shelled bastards myself. It is oft said be careful of what you wish for. We did get a Iittle smile from the waitress this morning. It lasted for about 3 seconds or so. I think she then had to go for a lie down and rest after expending the day's bonhomie all at once. 

The route took us straight onto the voie verte. This is something we could learn from and copy. It is about 70 kilometres long with a beautifully finished surface. We flew along it passing old houses that were once railway stations. They were marked with the villages' name still on them – Comertin, Cluny or Plissé. The old railway platforms were still in place, the only thing missing was the rails themselves! The countryside was now rolling hills on either side as the railway track followed the valley floor. The vines at this point had gone and been replaced by the usual crops and cattle one would expect. The sun was warm, the sky was blue and the grin factor was up to 10. This has to be some of the best cycling in the world.
Soon the TGV line came into view on our right and began to run parallel to our track. I mentioned to Grant that it is said that the TGV sounds like a jet engine as it comes near. Just at that point, and on cue, one appeared sounding just like it has been described. Its silver and blue livery shimmered in the morning sun as it literally flashed by. That was not the last of them. The voie verte runs alongside the TGV for many miles and we got to hear and see many TGV zipping to Lyon or Paris. Spotter heaven!
After a short stop for coffee we continued onwards towards the tunnel of the Bois St Clair. This is a straight 1.7 km tunnel, lit, paved for cyclists and inhabited by bats in the winter. One could see the other end as one enters. The temperature dips but was not cold. Another exhilarating ride and saves a huge climb. At this stage the what look like limestone hills that had been threatening to close in on us actually do and so this tunnel was very welcome indeed. When one comes out of the other side the vines reappear and we are again in hilly farmland, and Beaujolais country. It would be hard cycling but we cling to a valley floor still on the voie verte.
We met Kirsten for lunch as the voie verte ends. The old station house stills stands at the point on the path and one gets a feel as if at a terminus. We also got speaking to a Frenchman who had spent time in Liverpool and so (funnily enough) could speak English. I would have thought that anyone spending any time in Liverpool morning. It lasted seconds or so. I had to go for a lie after expending bonhomie all at straight onto the something we and copy. It is kilometres long finished surface. passing old once railway were marked with still on them would disqualify themselves as English speakers. Hey ho. I took the opportunity to ask him what the french was for "my rear wheel is f** cked", turns out it is 'rou' for wheel, arrière for rear, and something that sounds like vooee for f**cked. He also said that this could be caused by anything such as a broken spoke which redistributes the tension and so f**ks the rou. I think that's what he said. I considered asking him in scouse, but wheels in Liverpool don't get f**ked, they only get nicked. Armed with this knowledge and knowing that at this point nothing could be done, I thought of the new bike sat at home which in all probability had both wheels which were pretty far from 'cassé' (that's another french word for f**ked).
Suitably fed, we set off for Belleville along a busy, for France, road. Feeling strong in the heat, we had kept up the fluids and it was not long before our destination was in sight. As we had discussed at lunch the issue of the buckled rear wheel, a stop at a bike shop (if we were to bump into one) would be welcome. And so it came to pass that Kirsten had found one right on our road, no need for diversions. Madame La bike shop owner said that husband had gone shopping and so if we could wait his return we could discuss the wheel.
Following successful negotiations the wheel would not have to be replaced. Msr looked at it and shrugged and said '1730, ce soir'.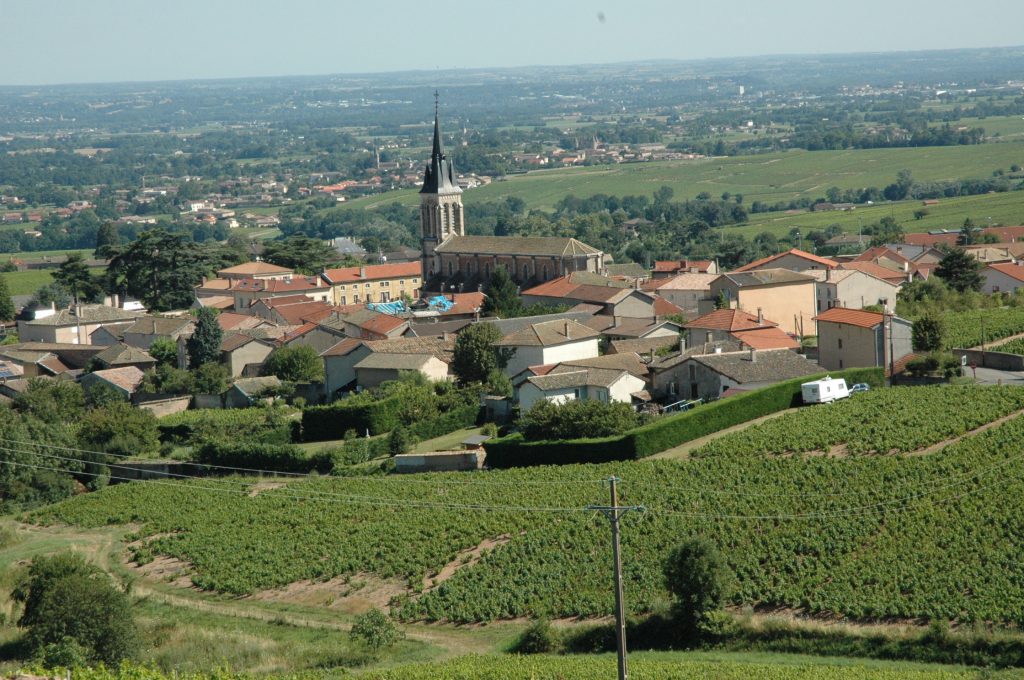 This gave us enough time to pop into the hotel, shower and visit a village called 'Fleurie'. Go to your local wine shop or supermarket and you will see wine from this village. We visited a wine shop and 7 bottles later we discovered that there we were over 100 wine producers just in this village's area. The countryside here was again a range of hills rising to our right, a flat in valley to our our left for miles. The tunnel had led us through a bottleneck in the hills.
The village of Fleurie sat up in the hills and we drove further up for one of the best views in France. We walked up a driveway with chased a contour for a few yards and then stopped at a viewpoint. The valley dropped below, the village church spire was lit by the evening sun below us. The chap who owned the house on the side of the hill whose drive we walked up was gardening and stopped to talk. I asked what the blue hills were on the horizon. The Alps was his reply, you could see Mont Blanc, and in winter mornings the jagged mountains were fringed with fire from the rising sun. All around us and below from our high vantage point, vines covered the land.
Time soon passed and we had to pick up the bike. It was repaired and in fine fettle. Msr charged 10 euros to replace a broken spoke and ensure the wheel was aligned. Job done. I can now cycle to Montpellier without fearing the rear end exploding in a mass of metal and sparks. I can't vouch for other rear end explosions.
Back to the hotel for an early evening Fleurie in the sunshine. Dinner: pizza for K and I, beef for Grant.
The CI: started as a 1-2 settled to a 0. This is beginning to look like a pattern. The GF was a deffo 10 at many times. Tomorrow is an easy 30 miles to Lyon and if things go to plan then we lunch in the gastronomic capital of France. We might even see more TGV's.