This is a rest day of about 37 miles. The day started brilliantly because there were eggs for breakfast. Madame boiled 2 eggs each. Heaven. So in addition to cereal, ham, cheese, yoghurt, orange juice, coffee and croissant there was eggs! In addition there was sunshine and blue sky. After yesterday's trial by cloudburst this was a very welcome sight.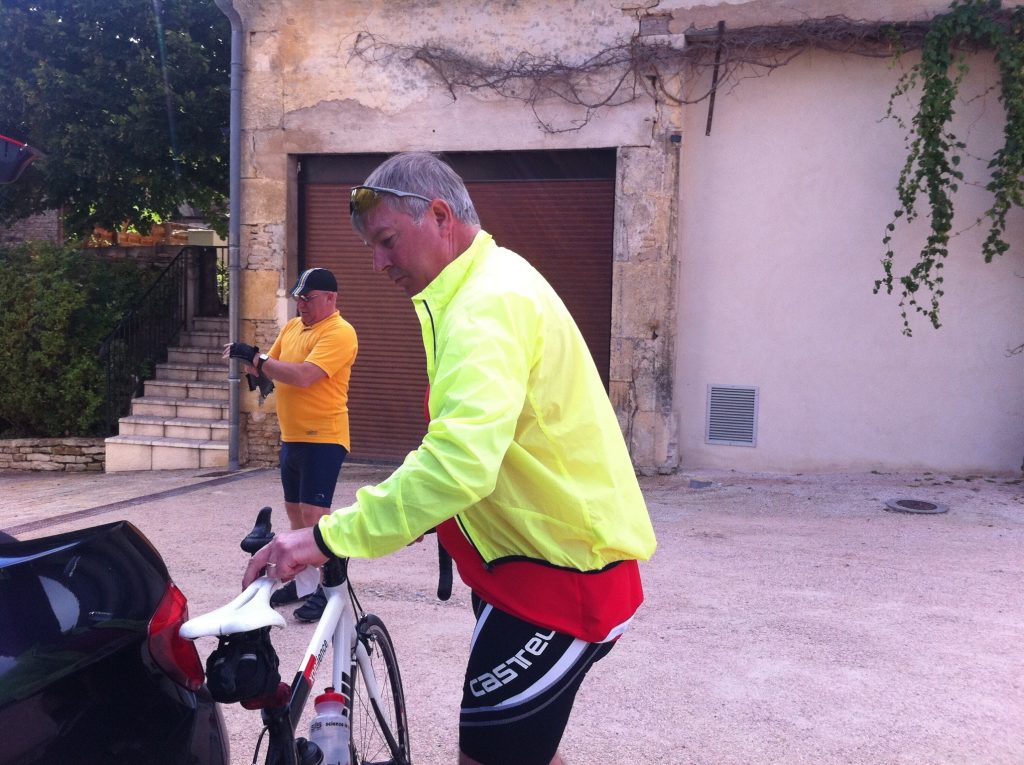 We had a little diversionary fun getting the bikes out of the garage. The hotel has quite a secure garage which has doors that open only with a wireless key that you aim at the door and press a button and then Voila! the door opens. In England we call these things 'automatic doors', and I have one in Carbis Bay. No keys are needed, no 'hands on' pulling or pushing on heavy doors required. And certainly no pushing on buttons, be they red buttons or buttons that have been covered in yards of masking tape to prevent them being pushed. For if pushed, certain buttons lock down the doors and require someone with the savoir faire to come and unlock the garage doors. And so it was that when the wireless key fob failed to open the door madam enquired if the button had been pushed. I could, with all innocence, answer no, and so could Kirsten.
Finally, when Monsieur turned up to remove the tape and do something with the button that should not be pushed, we were able to retrieve the bikes and be on our way. Madame was not amused.
The road out of St Seine went straight up hill but due to decent weather, 6 days of cycling and a bloody good breakfast, it felt as if it was flat. The hills rose either side and we could see across the valley to the hairpin bends of the road that enters the village. Today was going to be a good day. We had plenty of time to get to Nuits St George in very fine weather, blue sky with little fluffy clouds.
The morning's ride was an absolute belter. We had gained an elevation of about 1600 feet and could see for miles around. Again fields of golden sunflowers and wild meadow flowers were everywhere. We were heading for Dijon. After about an hour or so the road dipped into a wide mouthed valley and we could see it sweeping down into it. It was not very steep at the top, just a gentle curve downwards. Then, shortly after, the road dipped and swerved steeply into the valley and the speed shot up. We were into hairpin bends before we knew it and flying down. No cars joined us, so we had the road to ourselves. Just a touch of the brakes to negotiate the bends otherwise it was head down arse up and fly. The road was marked with symbols of the polka dot jersey, the 'King of the mountains' jersey, as well as names of riders and encouragement for road racers. This was obviously a road race route and may have been used by the Tour de France at some point. Grinning from ear to ear we flew down the road for 9 kilometres and dropped 1000 feet. Then we picked up a cycle path beside a canal into Dijon.
This was another 'voie verte', a flat route straight into the city. We found a cafe for lunch in the city centre, where I troughed a lovely Salade Niçoise. The cathedral roof in Dijon had tiles of various colours; ceramic with a gloss finish, as if to say, 'look how ferkin rich we are, we can afford coloured tiles you peasants with your thatched roofs of straw'. I exaggerate as we have not seen thatched roofs at all. The French peasants can't afford thatch. They can afford cheese, but not decent roofing.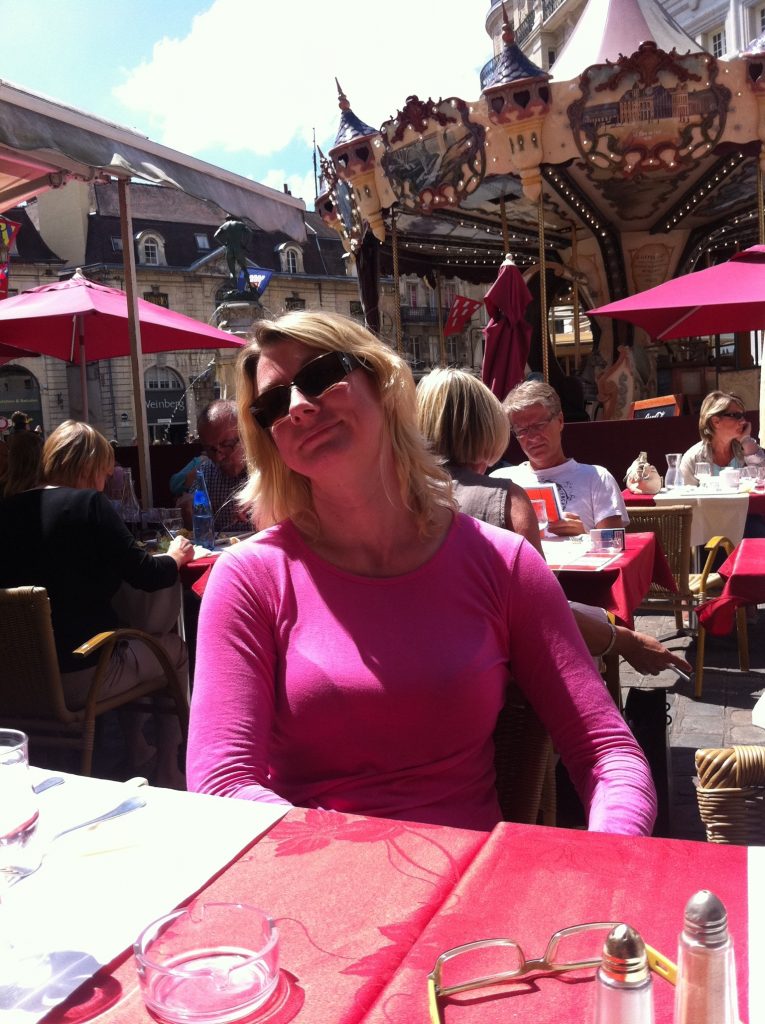 Dijon is the capital of the Burgundy region. Home to the Dukes of Burgundy from the 11th to the late 15th century making it a place of wealth and power, of art, learning and science…and of course mustard. As such, it played an important role in the development of early modern Europe, while we were burning cakes, catholics and witches and trying to invent football.
After leaving Dijon we find a road called the 'Route de Grand Crus' the clue really is in the name. This is the Côte d'Or, and as with Champagne the hillsides are replete with vineyards of Grand Cru Bourgogne quality. The views are stunning as away to our left we see the Jura mountains far in the distance (I am guessing) while to our right the hillsides rise above us laden with vines. We cycle through village after village each with their own vineyards and domains and chateaux, the houses are all of local stone vying for prettiness. One thing we have noticed is that that each village throughout France takes pride in its village entrance. The sign that announces the village you enter nearly always has flowers to decorate the sign. Often they are Rose bushes. Roses are planted at the end of the vines as 'canaries in the mine', i.e, to pick up signs of diseases. If the roses are not healthy then the vines will not be.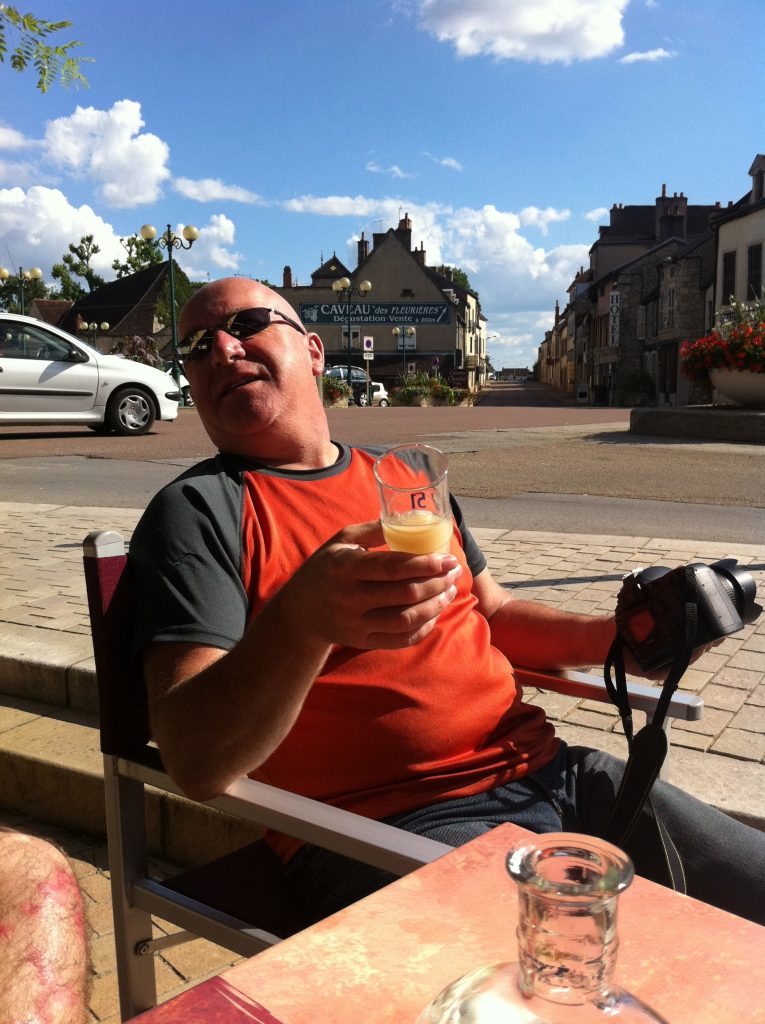 We finally wheel into Nuits St George. I am forced to drink pastis, then beer and then wine with the meal. We are then forced into buying a bottle from here. Life is hell sometimes. Grant and I talk franglais bollocks with the wine merchant and are again forced to taste. My French is improving, I can now say 'bugger me I'm pissed' in perfect Dijonaisse.
I have found out why the bike feels like the brake is on. Grant thinks the wheel is buckled. When we check; the back wheel does not free wheel. It stops with every revolution. This is a distraction, but I am not changing it now. It has got me this far, and as I am British I will get to the Med or my name is not Gungha Din.
Dinner tonight was coq au vin, or chicken that has been run over by a van. Then fromage to make your ticklers melt. We also had some wine and unashamedly laughed at a party of fat Belgians. They were so fat they looked liked Germans, they looked as scary as Germans. And they smoked. It feels great to be superior. I thought they could be from Manchester, but people from Manchester don't come to this part of France. This is too posh for Mancunians. It is too posh for me but I can wing it because I can say 'encore un fois'. A great sport to be had is feeling superior to foreigners even though you know they build better cars (Germany), great beer and chocolate (Belgium), fantastic wines (France) and can afford to fight more wars (The United States).
Tomorrow we are having eggs for breakfast.