What follows is a light hearted and slightly irreverent account of the events that unfold on our journey.
This is the story of two old fools, les 'deux fous' (and one fous' long suffering wife) on bikes who cycled down through France from Calais to Montpellier. 
The Arrival in France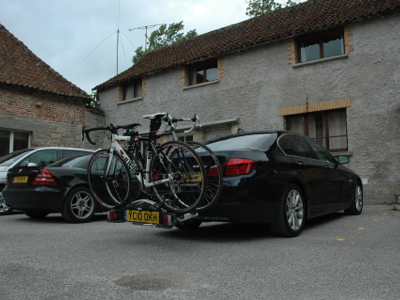 We set off in good time to reach the train to Calais.  Last night was Ben's birthday so we finished the evening with a medicinal digestive (a single malt) that turned out to be a mistake.  The journey was uneventful, a slight delay at Folkestone, then we were off…
Day 1 – Guines to Arras
We start our journey, would we be happy to make the first three days and then sit out the rest in the back of the BMW, or would we fulfil our dream and get to the Med "en velo" in one piece ?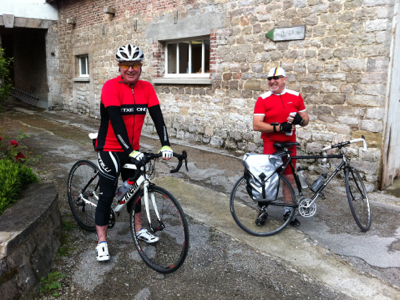 Lumpy and rain as expected, some fantastic roads which make you grin ear to ear. Kirsten had some fun getting through the one way streets of Arras and narrow lanes. Afterwards a beer was needed to calm the nerves. Into Arras on time, the Chalfonts are behaving, however the leg warmer has created a pressure point on the back of my left knee. I am hoping i can make it into day two without further injury. Still getting used to the new handlebar position, meaning my palms are tender. Not a good start.
Day 2 – Arras to Villequier
A cool day cycling through wooded areas, however much potholed roads made us feel at home.  Some nice hills and a little more rain, however a good end to the day..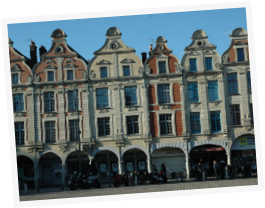 Dark skies mean putting on the rain coats and keeping warm is a must. Seem to have recovered from last night's aches and pains. Wonderful scenery flowed by and after a well needed coffee stop we crossed the Somme, the bridge still scarred from the tank tracks that rolled across it nearly 100 years ago….
At the end of a good day, with only two category 1 hills (yep, tough) and detours that add to the journey we find ourselves in a valley believing this is the end point, not a good idea as your legs switch off. A quick call to Kirsten confirms that the Auberge is at the top of a steep hill…however with the promise of a warm shower and food we power up the hill with a laugh and reach a basic but delightful "motel". A few beers and great food mean a good sleep in preparation for day 3
Day 3 – Villequier to Tinqueux
Today looks jolly, with two category 1 hills and marshes to add to the journey distance (as we will no doubt take detours). Feeling stronger as we go, even the last hill was taken with a laugh and a small race to the top.
The day started with dark and foreboding skies, we wrapped up warm for every eventuality and soon on our way, covering the first 10 miles in no time. Ben had a few issues with his chain, just in time for our first climb of the day. we must be getting fit as this and the others to come seemed "ok".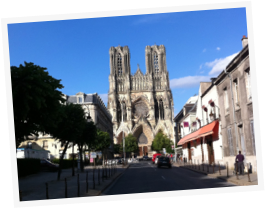 A coffee and pain de chocolate were in order by 11am, then onwards for some swift miles. still cold, still threats of rain. After meeting Kirsten for lunch at a reasonable Auberge the day changed. The cloud got lighter, the temperature climbed, and soon we were stripped off in 23 degrees heat.
All of a sudden water was needed in demand. our bikes sang along ridges lined with skylarks and corn, then without warning we dropped into a valley dripping with our first sight of Champagne vines. The most wonderful mile or two of full grin hairpins down the valley to Hermonville. The sun down now beating down on us as we sped though towns of yellow stone buildings capped with red clay brick. A little hill climbing competition coming out of Hermonville with some locals added fun to the event, though not sure my legs agreed, however the last 180 miles of cloud now melting away in our memories.
Another dive into Tangry then into Reims for a meeting with Kirsten and an ice cold beer in the clear blue sky. I hear blighty could get some of this weather soon….I do hope you do as the spirits soar on the wingbeat of the swallows and screech overhead.
Epernay and beyond tomorrow.

Day 4 – Tinqueux to Vertus
Thoughts that this would be an easy day's ride dispelled early in the morning with hills and poor roads…But the views more than made up for the lack of progress as the rolled across Champagne country proper…
Day 4 starts with a slap of sunblock as the sun low in the sky gives a pleasant 24 degrees. We head into Champagne country, the hills, the mountains, the headwind !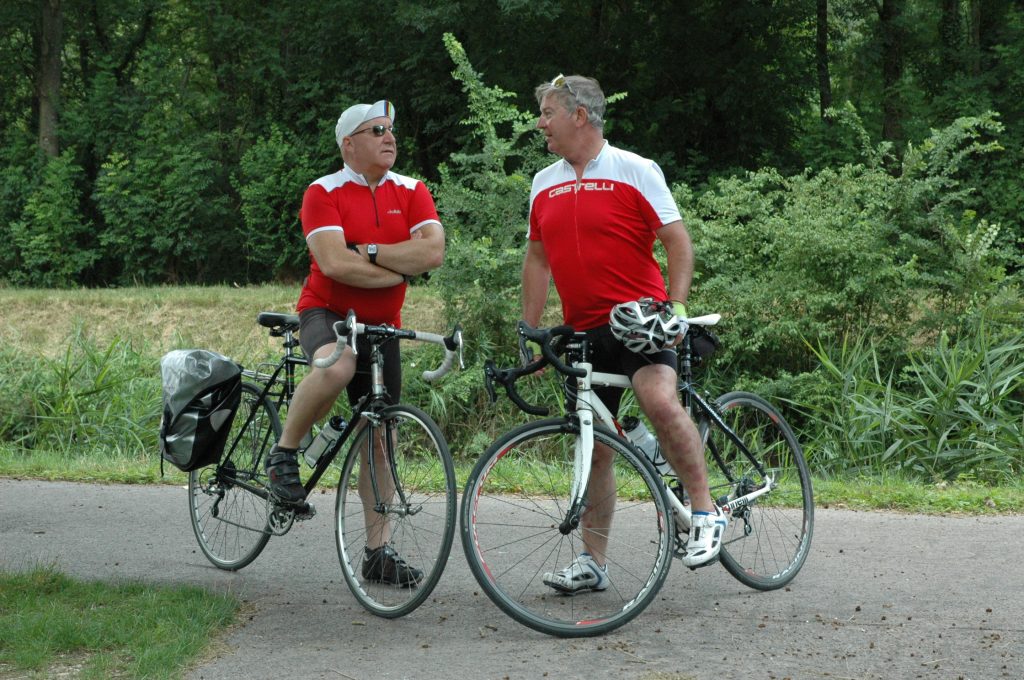 The pace slows to 8.5 mph as we rumble over agriculture style roads (read rough) with a few testers. Soon it is 32 degrees and the water goes down aplenty. We travel towards Epernay only to be slowed by Ben's ever loosening bottom bracket.
Two hours, a gaullist shrug and bavette steak later we were on our way to Vertus via the Montants De Reims. Sweeping bends and dives into towns surrounded by vineyards and the gentle throb of activity in the villages drew us closer to Vertus. The last 6 miles slowed by a mini Mistral saw us reach our destination to unwind with a petit Ricard over ice and a rather scrummy glass or two of Champers
Day 5 – Vertus to Bar Sur Seine
We are now leaving Champagne country, and onto plains of mile after mile of corn fields and sunflowers. A spot of frustration led us off poor surface roads and a chance meeting with Kirsten, lunch and finding the "voie verte" 
A long day 74 miles to Bar-Sur-Seine. Thankfully after two little testers we settle into a gradual uphill climbing just 1592 ft over the day. Legs tired, but should be okay if we don't have another day of head winds.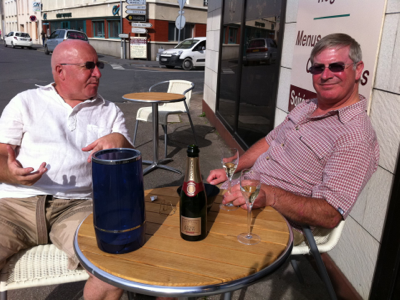 As for today, lots of agricultural roads, read really rough, which had us thinking those rattles you normally get, are they just rattles, or the sound of something important about to fall off. Quick checks along the way, and a sudden feeling to change the game saw us find the "voie verte", a purpose made Tarmac tow path along the Seine. Great respite from the jangles and bees trying to nest on the inside of my glasses whilst going down a hill. Just a little alarming. Troyes is definitely worth a visit, and Bar Sur Seine, beautiful old town, however the site of a WW2 massacre that the locals haven't forgot. The buildings creak with tragedy.
Good weather, no rain, started at 18 and closed at 25 so no coldness, other than a little wind chill. Looking forward to Day 6 as we doze at 10pm, ready for repair and repose.
Day 6 – Bar Sur Seine to St. Seine L'Abbaye
A test of legs and mental will to keep going.  Beautiful country, however rain at the end of the day nearly caused major issues.  Keep smiling and eat the elephant 10 or 20 miles at a go…..
This should have been a gentle 62 miles following the Seine up to its source, and beyond to St. Seine L'Abbaye. A climb of 2600 ft, nothing too dramatic, just uphill all day.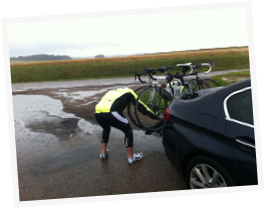 The journey St. Seine L'Abbaye was a surprise. First rain, then really poor roads, then the deluge (at one point I thought I saw Noah float by).
A mental battle, willing the machine onto the next few feet, there was little opportunity to freewheel as we climbed for 6 hours against the elements. Hopefully this is our low point. So, put it behind us as we point towards Nuits St. George, the historic home of Napoleon's vineyards.
To Nuits St George promises to be relatively easy day, downhill after a little tester to our destination, some 32 or 37miles to the south. Hopefully we will be able to dry out our clothes and recharge our spirits.
The hotel was okay, the dinner good and we warmed up fast.
Day 7 – St.Seine L'Abbaye to Nuits St. George
I have to say that this was the best day's cycling in my life !   The rise from St. Seine taken at pace to be followed by a 5 mile, 1000 foot decent with hairpins, rushing and grinning down a valley created by the cycle gods…..
We were blessed by both freshly hard boiled eggs and good weather. I did blot my card though by pushing a button that ought not to be pushed – well sometimes you have to is my excuse. After leaving St. Seine L'Abbaye we climbed a long hill, which a few days earlier would have left us panting, and cresting it we found ourselves on a plateau.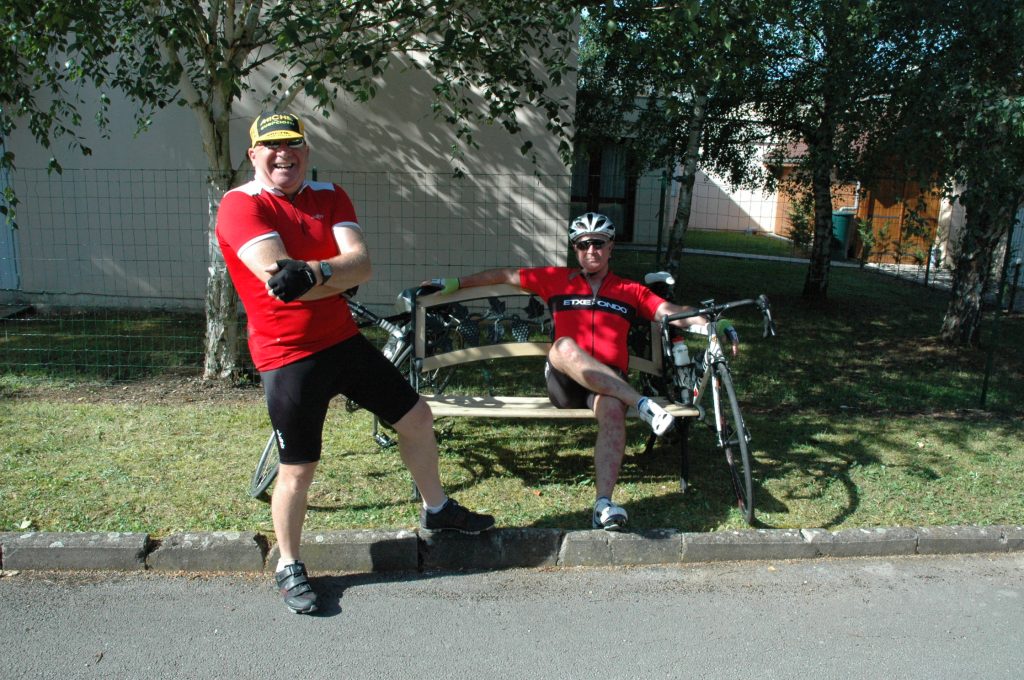 The Garmin wanted to take us on a detour, just to play with us, before delighting our senses with a full 11 on the grin factor as we descended 1,000 feet on a 5 mile stretch through a wooded valley, used by the Tour stages (by the road paint). Nods by climbers met our grins as we concentrated on getting down in one piece.
Afterwards a simple jaunt into Dijon for a lovely healthy lunch then onwards to Nuits St.George, home of Napoleon's vineyards for a well earned "pression"
Day 8 – Nuits St.George to Malay
We find the 'vote verte' again and the joy of it's diversion causes a major comms breakdown leaving an unhappy Kirsten waiting in vain for us somewhere that had been planned but not followed. However, Bradley Wiggins won the Tour De France. Note: it is now 2020, Grant has been forgiven, but Kirsten is very happy to let hm know that is is never to be forgotten, and is oft trotted out during social events or when minor misdemeanours are "discussed").
This ought to be a gentle, flat 55 miles to Malay. The bikes are looking a bit tired now, needing some maintenance, especially Ben's buckled wheel. Too much fromage me thinks. Not a cloud in the sky, so lots of slap on needed, plus water and water. We near our half way mark, and life is looking good.
Good breakfast followed by fettling of the bikes, which means a little maintenance in the form of oiling every moving part and adjusting Ben's brakes so they don't foul his buckled back wheel. Once done, set off at a pace towards Beaume, getting there well before expected. Tailwinds and good surface saw an average of 23mph for the first 15 or so miles. Once we got out of the town we hit speed again, flowing through fields of sun flowers and corn. The vineyards remained to our right hand side as we dashed through village after village.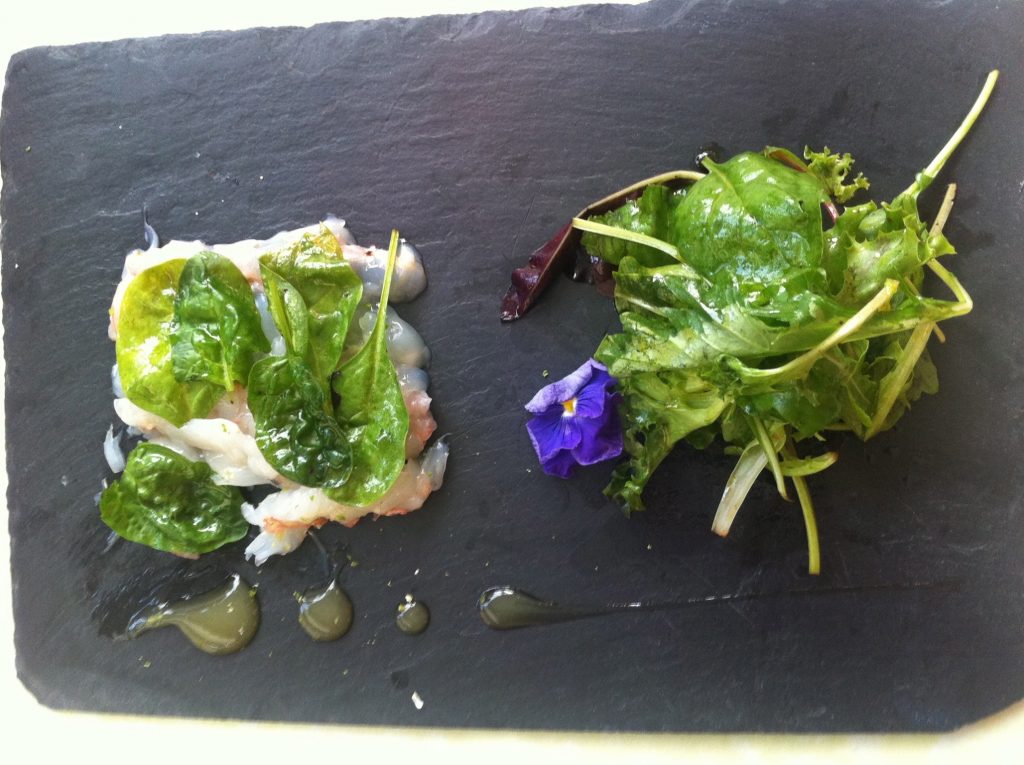 During the day we met several peletons, some we were tempted to chase down (now that we are fit racing snakes), but gave up as we needed to keep a reasonable pace, only stopping at Chauny for a coffee and meeting with Kirsten. Once through Chauny we arrived at Givry where we picked up the Voie Verte, the green way running 75 miles to the south (in out direction). It is an old trainline meaning the hills and valleys have been ironed out by some clever engineer of old.
Without realising it we arrived at our destination (after a quick 47 miles) which turned out to be a roadside hotel that is better than it looks from the outside. We had meant to stop for coffee at Buxy but our new route bypassed the town, meaning we did not get to meet a rather annoyed Kirsten who had been waiting for us. As an aside, when we got drenched going into St. Seine L'Abbaye, the mere act of phoning Kirsten meant my Nokia got way too wet to ever work again, meaning I am using an HTC phone that I am too old to know how to operate and has a life of its own, hence the phone cock-up. In the evening we made our way to the small village of St. Gengoux le National for a well earned Pastis. The town is on a hill, well turned out, a bit like Burford.
Tomorrow is more Voie Verte, some 45 miles down to Belleville.
It is all getting easier and I recommend this route to anyone with a reasonable level of fitness.
Day 9 – Malay to Belleville
The voie verte gives us a good start to the day with cafe in Cluny. After we cycle through the 1.7km tunnel into Macon countryside and down into Fleurie and the land of Pinot Noir
Fabulous day with heat rising to 33.4 degrees, flat and clear surfaces. We began the day with a good breakfast before starting again on the Voie Verte (the UK should do this kind if thing too !) which was a little cool due to the trees lining the lane and the cuttings that defined the old train line.
Lots of beautiful old stations and long abandoned platforms saw us steam into Cluny to meet with Kirsten for a welcome coffee. Did not see anyone named George there.
Then onwards to Charny-Le-Macon for a feast on fresh baguettes, pate, jambon and cheese. After lunch a dash into Belleville, gaining a top speed of 41 mph, completing the day at 34 miles, via a bike shop to repair Ben's back wheel at last.
Later that afternoon drove into the hills to see "Fleurie" a famous wine town, where we bought some wonderful wines, most for later and met an educated, retired man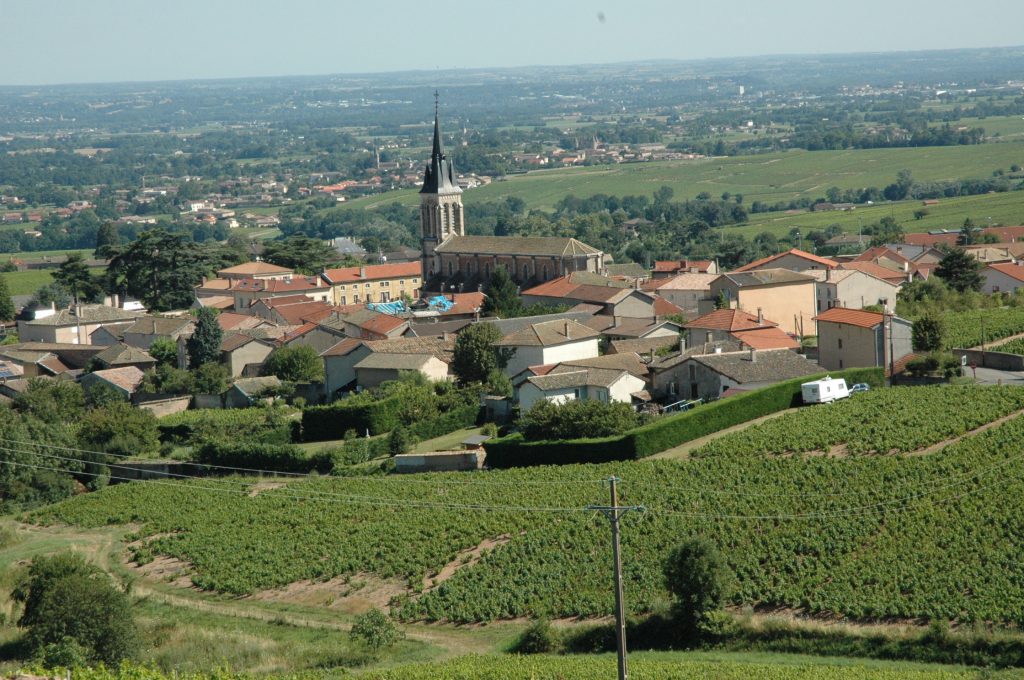 who had bought the most beautiful villa at the top of the hill and gave us an insight to his view of the sunrise over Mont Blanc, way distant on the horizon, topped with snow white ice cap peaks. The view just took our breathes away !
Tomorrow is Lyon !

Day 10 – Belleville to Lyon
The ride to Lyon was a simple cycle up the Saone to its meeting with the Rhone.  However there was a monster sting in the tail in the form of "Montee Roy" a huge climb then fast decent into the city.  And what a wonderful city it is….
An early start as we wanted to get to Lyon for lunch. In our eagerness to get going we forgot the suntan protection, but think we just got away with it.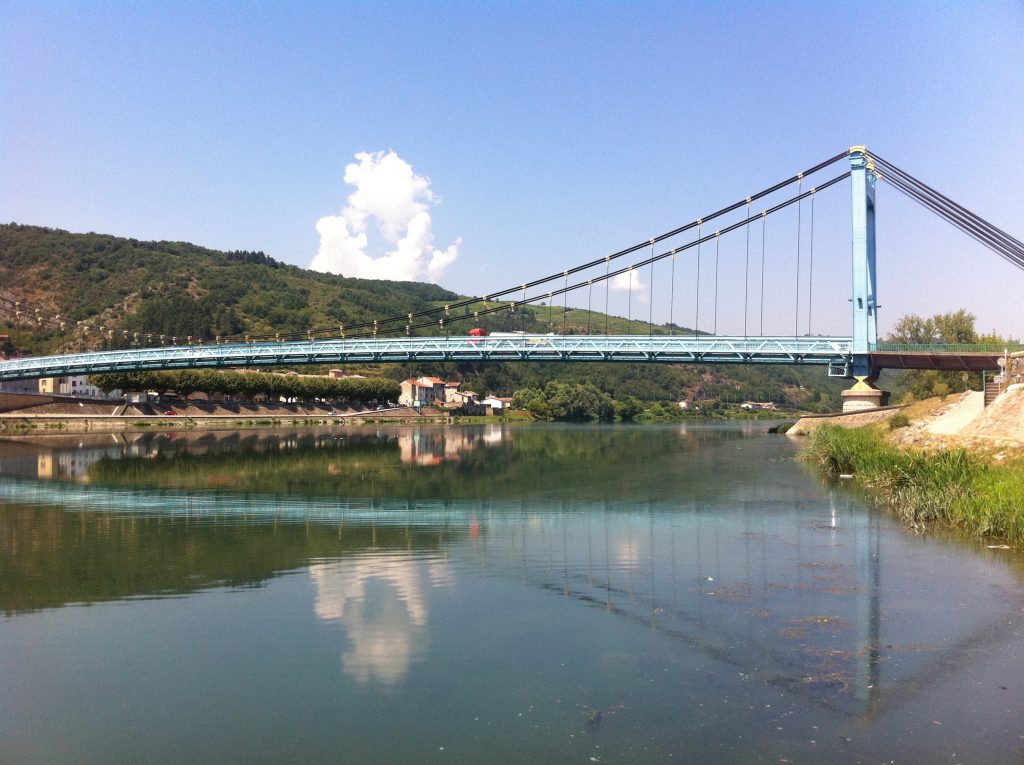 A nice 30 miles to Lyon from last nights destination, following the Saône downstream where it joins, or creates a 'conflagration' with the Rhône. Arrived at 11:30 after a monster hill at the end of the ride and hairy moments in city traffic saw us reach the hotel Warwick Astrid Reine, to be greeted by Kirsten in a suite as big as an apartment, read huge ! (Ed. Kirsten was not in a huge suite, it was the hotel room that was huge).
Once showered we were off to Lyon city to enjoy some lunch and a glass of beer/ Rosé. The heat has now got to Kirsten, it being some 33 degrees in the shade, the only thing between her and certain death being the air conditioning. Ben and have now retired to the hotel room's balcony with some ice cold beer and nuts to enjoy the breeze and wait out the heat. Tomorrow we have our own eggs (we have a kitchen) to cook before once more into the breech towards Tournon-Sur-Rhone and back to rural normality.
Day 11 – Lyon to Tournon
A gentle ride through the Cote De Rhone, few hills, however the heat getting to us a little.  Walked over to Tain Hermitage for a meal and  gentle stroll….the bustle of Lyon long behind us, thankfully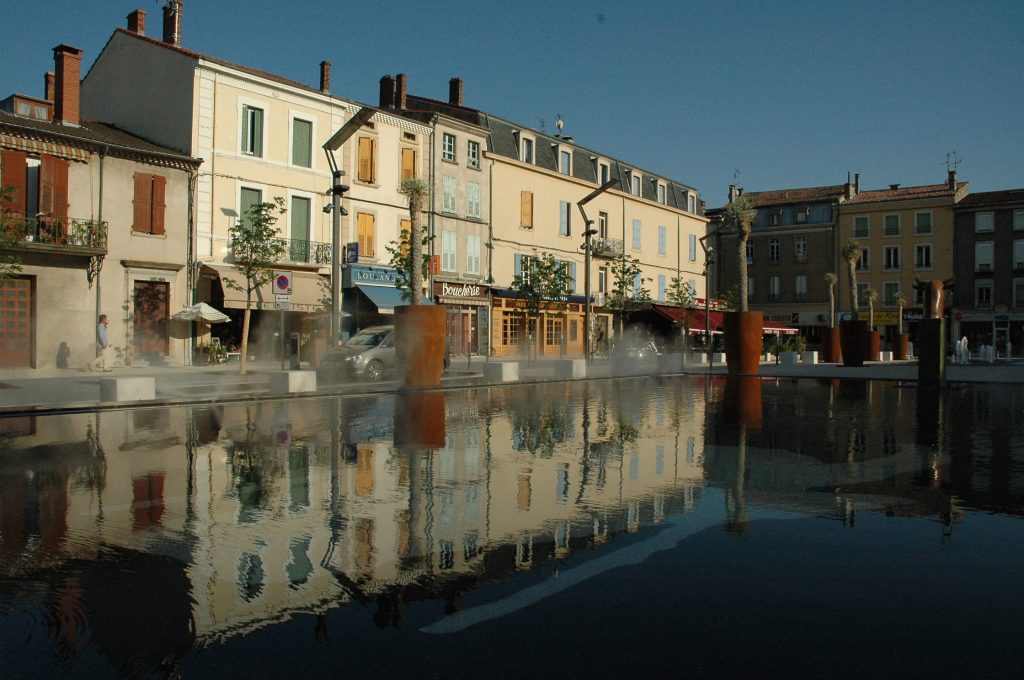 It took a while to get out of Lyon, travelling 8 miles in the first hour, however we soon got into the countryside again, though the roads now seemed more busy and the towns having more bustle. We are definitely in a different part of France to the Northern part of the country.
The Rhône is ever present and feeds the local economy through development of hydro-electric plants, mills/factories and barges ladened with goods, still the industry seems to be using rather than abusing this vast natural resource. 
Day 12 – Tournon to Bollene
A blistering hot day that saw two punctures,  meandering through the Rhone valley, and a real monster hill 10 miles from the end of the ride.  Bollene as a town was a disappointment.  
The last real tester, a 67 mile jaunt with a real big sting in the tale at 50 miles, rising with a 300 ft climb at Montelimar. The heat will be the main issue given today's 38.4 degree max in the afternoon. Once done the last few days will be 'simple' barring accidents or silly mistakes.
However…."I don't believe in fate" spoke mon frère the other day about omens and stuff about punctures, then not one but two come along within the hour. Now it might be due to the temperature being 41.2 degrees and Boyles Law dictating that heating something up in the same volume will increase the pressure, hence the tearing of inner tubes, or it could be sheer bad luck that on the day that we needed to cover 72 miles, that we ended up buggering about in the searing sun, beating down relentlessly upon us, changing inner tubes between the wonderful lunch again arranged by our logistics maestro.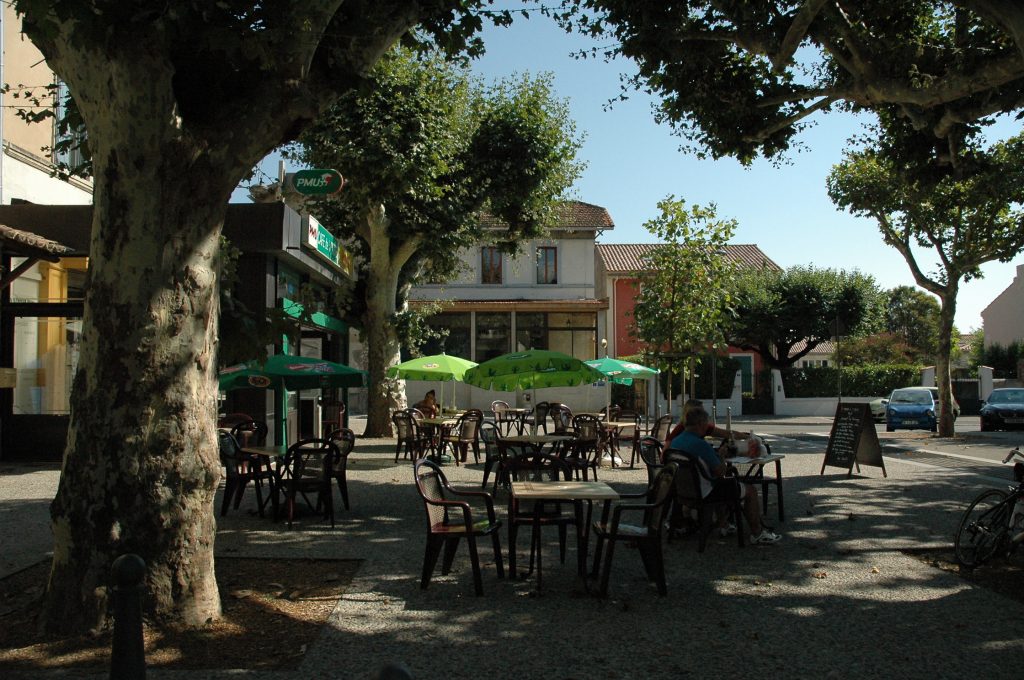 Nevertheless, if you'd have asked me if I wanted to spend 9 hours staring at a hairdryer on the full heat in my face in a cold, wet morning in mid February (or mid July if you live in England), I might have said yes, but now on reflection of today, I might give another answer. So, the stats are above, but that masks a beautiful day on the Côtes De Rhône, passing vineyards and the rolling River Rhône, passed vast power stations and industries that rely on the mighty european river to breathe life into them. Beautiful hill top castles and villages, mostly medieval, some not changed since, with the architecture so reminiscent of Provence (where we enter tomorrow – hurrah).
It has all changed from the plains of Northern France, the panache of Champagne and the Côte De Nuits, Beaujolais, and Maçon in the the Saône valley, to the Med proper; the food, the wine the poor driving !
I continue to be staggered by the simple beauty of this part of the world, with its smell and light, and with the voie verte, France's version of motorways exclusive for cycles, makes it accessible to anyone – even slightly overweight Dutch people loaded down on their way to Barcelona from Amsterdam.
Beats the hell out of sitting on a beach in Torremolinos, or some other popular hellhole with a hangover looking forward to your next spanish sunday lunch (gosh, I am even joining my brother in painting stereotypes…)
Tomorrow is Avignon, Provence and beyond !
Day 13 – Bollene to Avignon
Wonderful ride to Avignon over countryside that followed the Rhone and the TGV line/  Very hot again, lots of water, the last few miles painful to get to the hotel (avoid !), but Avignon, just amazing….
Expecting a short but very hilly 30 mile day to Avignon. the first 20 miles will see us climb 1700 feet into Orange then to the town of Chateauneuf-Du-Pape (I think we've all drank some wine from there at some point in life, so why not go there for a…coffee). Let's hope the legs are okay from yesterday, both Ben and I are feeling a little sore, more from the heat and time in the saddle than the exertion.
In the event, we decided to use the Avignon 'Bis' route via Pont St. Esprit, which took us to the west side of the river, a very welcome 37 miles downstream. Now it is easy to get complacent, what to comment upon when you are riding such a glorious area. Birds of Prey aplenty, stops for coffee in small provincial towns (in Provence by the way), gliding passed the Rhône, vineyards, Chateauneuf-Du-Pape and duck croissant a l'Orange.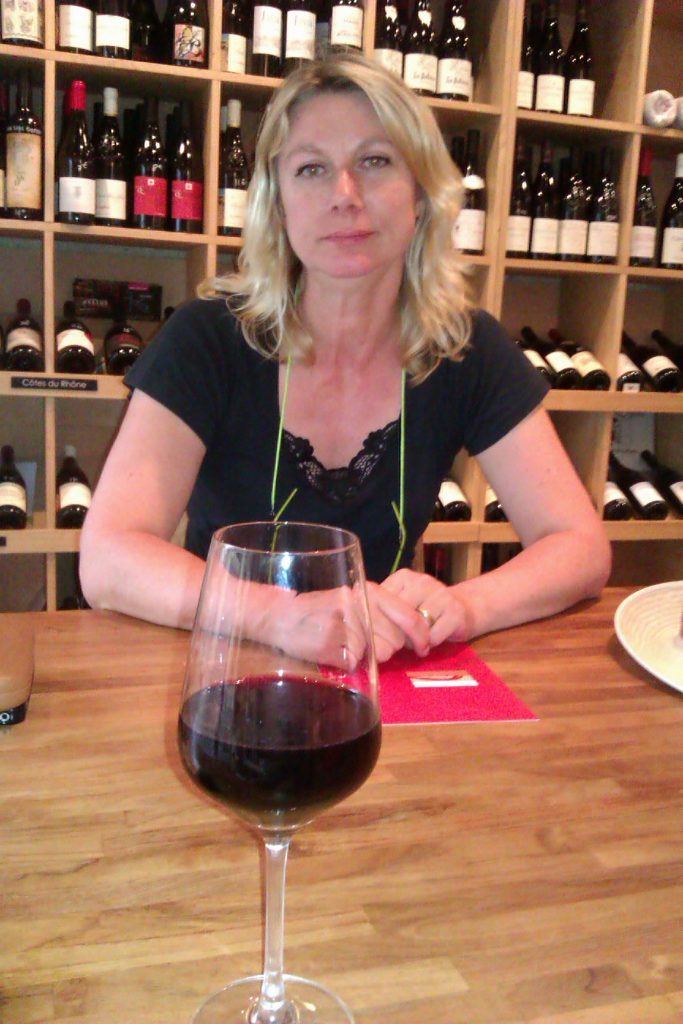 When we hit Avignon, another mouth dropper, being hit by the castles and the finest walled city I have even come across, in full flow of carnival.
It took a little while to find the hotel, a cheap "premier classe" at the edge of an industrial estate, not my best choice I have to admit, but we managed to easily get into town and sample the life for several hours, eating and drinking to our desire. back in the hotel now, getting ready for the jaunt, some 30 miles down to Tarascon.
Day 14 – Avignon to Tarascon
A short day's ride, we increased the distance by going to Meynes, however very hot and we were glad to get to Tarascon  It was here that Ben started to feel unwell……
After a pleasant stay in Avignon, leaving aside the incorrectly named "premier classe" hotel, we took an amble of 25 miles through Provence, meeting the Rhône in several places as we criss-crossed across fields full of ripening vines.
On the way we met some beautiful white "Camargue" horses who were more than happy enough to pose for us, then onwards for a simple coffee at a bar more reminiscent of Spain than France. We are in Bull fighting country, and the French dialect is so strong none of us can understand a word the locals are saying. We stay tonight in Tarascon (with its sister Beaucaire across the Rhône), both are small medieval towns of great character and history. It is a relief to be in a real hotel again, and today being a rest and repair day for our muscles, hopefully this will give us vigour for the push the to coast tomorrow.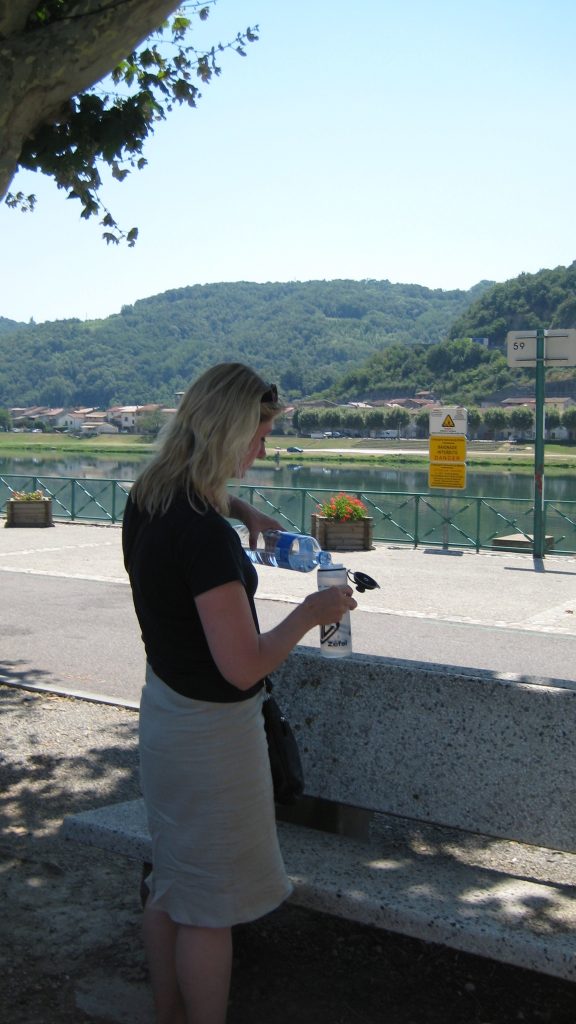 Then it will be onwards to Montpellier through the Camague flatlands. The journey is sadly nearing its climax, I have to confess I'd do it again tomorrow, and if had more time would definitely cycle back to Blighty with no hesitation.
At least we will have one week to wind ourselves slowly back via Bordeaux, La Rochelle and Rennes next week, no doubt planning the next escapade along the way
Day 15 – Tarascon to St. Marie Sur la Mer
The penultimate day's ride to St. Maries De La Mer, and the Mediterranean Sea.
Ben is not well last evening, and this morning his stomach cramps haven't improved. So I am riding alone, thankfully Anne is here to take him in hand,
The Ride was fast, really fast 45 miles in under 3 hours, assisted by a tail wind and good roads. We entered the Camargue national park to see the recognisable white horses, swarms of dragon flies, flamingoes and black bulls. After a head wind for the last 10 miles reached our destination, surprised to find the streets lined with waving people – surely not for me ? Correct, i arrived in the middle of of a Tourneau run, ie a bull run with a full festival celebrating Camargue culture – lots of bulls, proud men of white horses, and maidens in pretty frocks (a bit like flora day in Helston).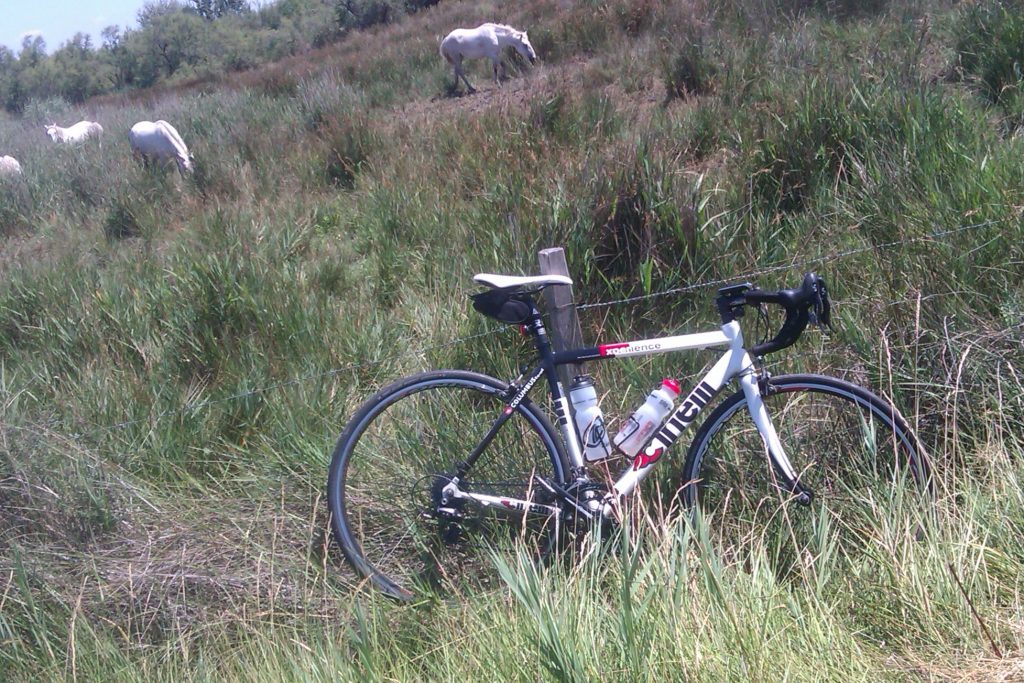 After 850 miles we got to dip toes into the warm, blue sea, clear skies, a fresh breeze keeping down the temperature. 
Tonight we dined on Camargue Bull steaks, Ben unfortunately still not well, and abstained. 
Tomorrow is Montpellier, some 48 miles west of here, where we hang up of bike gloves and enjoy the moment.  
Day 16 – Arrival in Montpellier
The final push to Montpellier. Grant started the last leg, but by heck we all crossed the line together !
The final day. Not a cloud in the sky, wall to wall sun, not too hot or breezy just yet. Ben can't make the final leg, but we will stop outside of Montpellier, so we can finish as we started, two old fools, together, on bicycles…
Yesterday's cycle was a simplistic 40 miles through flat lands, albeit a stiff offshore headwind cut the speed back making the journey more arduous than it should have been. Early in the journey we stopped to take the ferry to the other side of the Petite Rhône, it would have been mundane except that ignoring demand, it only went every 30 minutes, the crossing taking some 2 minutes.
We shared our ferry with a team of beautiful white Camargue horses, surreal, and I hoped the outlaw Josey Wales was not waiting on the other side of the bank. The lack of Bar/Tabacs meant a longer than normal ride between breaks, passing through vineyards and the well preserved walled town.
Across the salt fields of the Camargue a barge was being loaded with salt as I cycled by. Getting into real tourist country, with hotels built in the 70s inspired by Gerry Andersen, and Space 1999, just horrible lumps of concrete terraces, thankfully no union jack flags draped over the rails, however the Jack is big fashion here, if you want to look trendy, wear a top with a union jack on it.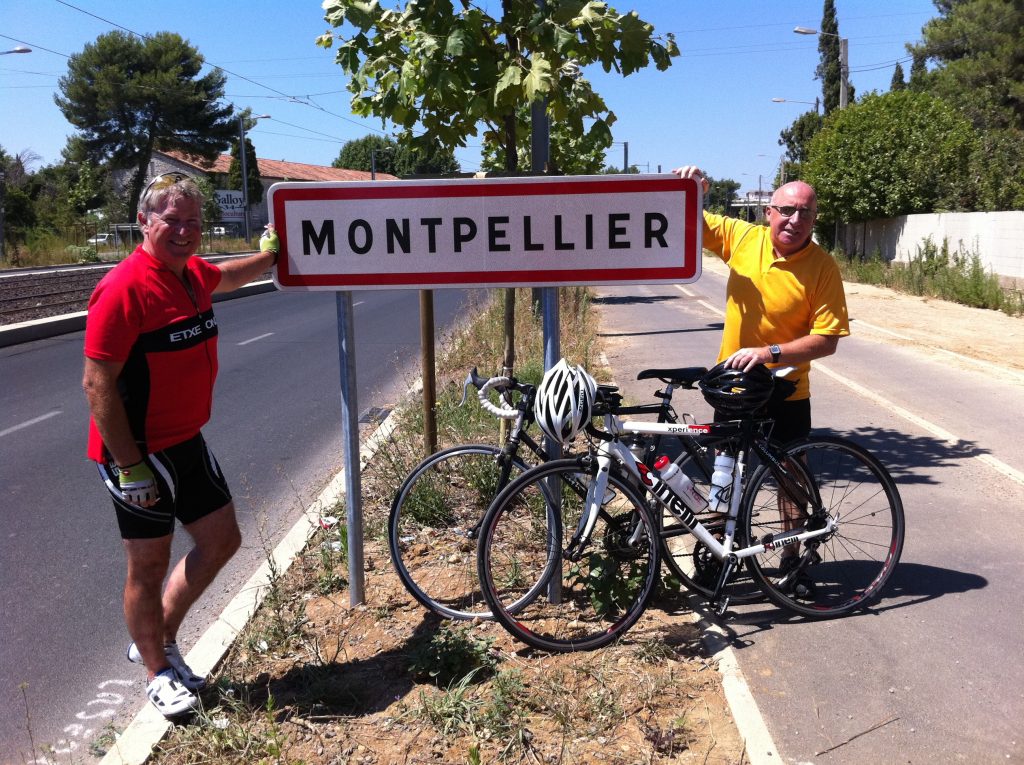 The girls found us a suitable "welcome to Montpellier" road sign, which we had to pose for before being allowed to enter the city. Montpellier itself seems to be having an identity crisis, whilst there is a beautiful old, traditional city at its heart, two minutes walk and you are transported to ancient Rome and Athens, massive squares named Zeus, statues, fountains, all very Las Vegas without the gambling and dancing girls. We all ate well and had early nights in luxurious accommodation, well not far off Lyon.
Time to pack away the bikes and reflect on a phenomenal two weeks of cycling and enjoying simple pleasures.
A few Statistics
Distance: 802.94 mi
Time: 74:06:00 h:m:s
Elevation Gain: 7,075 mtrs
Avg Speed: 10.8 mph
Calories: 45,013